News: Suppliers
4 August 2023
Silicon carbide and gallium nitride power electronics applications grow to 83% of Aixtron's first-half revenue
For second-quarter 2023, deposition equipment maker Aixtron SE of Herzogenrath, near Aachen, Germany has reported revenue of €173.5m, more than doubling from the dip to €77.2m last quarter and up 69% on €102.5m a year ago. This drove first-half revenue up 31% year-on-year, from €191.1m in 2022 to €250.7m for 2023.
The continuously growing demand for efficient power electronics applications was supplemented by a large portion of the export licenses outstanding in the prior quarter having now been granted. More than €50m of the roughly €70m in systems waiting for shipment at the end of Q1 has now been shipped and turned into revenue, confirming expectations that the pace of granting export licenses is now returning to normal.
Of total first-half revenue, 82% came from equipment sales (up from 78% a year ago), while 18% came from after-sales service & spare parts (down from 22% a year ago).
Metal-organic chemical vapor deposition (MOCVD)/chemical vapor deposition (CVD) equipment for making gallium nitride (GaN)- and silicon carbide (SiC)-based power electronics devices continued rising strongly, to 83% of equipment revenue, up from just 29% a year previously (with SiC comprising the largest share). MOCVD equipment for making optoelectronics devices (telecoms/datacoms and 3D sensing lasers for consumer electronics, solar, and wireless/RF communications) has fallen from 24% of equipment revenue a year ago to just 12% (mostly for lasers for optical data transmission and 3D sensing). MOCVD equipment for making LEDs fell from 43% of equipment revenue a year ago to just 5%.
On a regional basis for first-half 2023 revenue, 50% came from Asia (down from 70% in first-half 2022), 29% from Europe (up from 16%) and 21% from the Americas (up from 14%).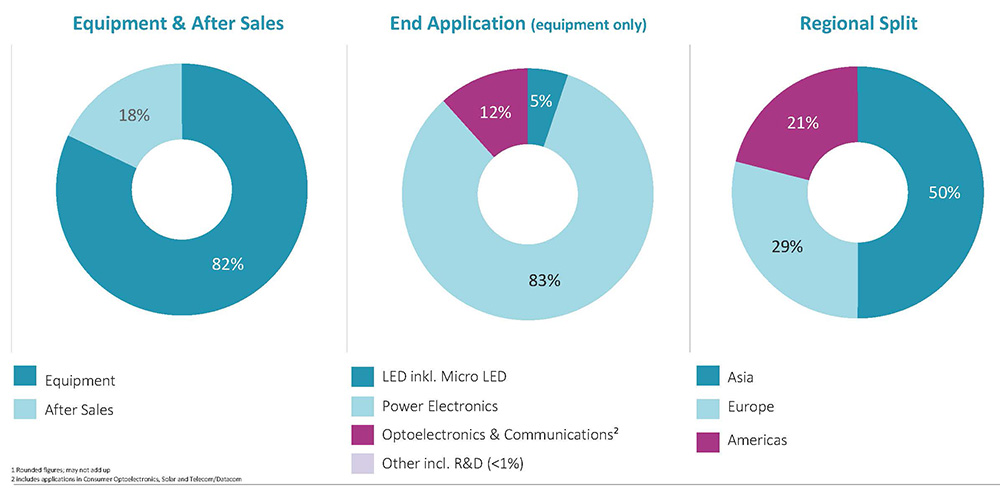 Quarterly gross margin has grown further, from 37% a year ago and 40% last quarter to 42%, taking first-half gross margin from 39% in 2022 to 42% for 2023.
First-half operating expenses have risen by 34% from €42.3m in 2022 to €56.5m for 2023, as quarterly operating expenses have risen further, from €20.6m a year ago and €27.6m last quarter to €28.9m in Q2/2023. This is driven mainly by R&D spending (on existing systems plus the development of new system generations) rising from €27.3m in first-half 2022 to €39m in first-half 2023, as well as increased staffing (full-time equivalent employees) rising by 31% from 772 at the end of June 2022 to 1014 at end-June 2023.
Quarterly profits more than double year-on-year
Second-quarter 2023 operating result (earnings before interest and taxes) was €44.6m (EBIT margin of 26%), up on €17.2m (17% margin) a year ago. This drove first-half EBIT up from €31.4m (16% margin) in 2022 to €48.1m (19% margin) for 2023.
First-half net profit rose from €31.1m (€0.28 per share) in 2022 to €43.9m (€0.39 per share) for 2023. Of this, €40.4m (€0.36 per share) was achieved in Q2/2023, up from €17.3m (€0.16 per share) in Q2/2022.
Free cash flow was –€82m in Q2/2023, compared with +€1.9m a year ago. However, this was driven primarily by outflows to build up inventory from €224m to €333m to prepare for the very high expected business volumes in second-half 2023. "We are very carefully managing our inventories to enable us to offer acceptable delivery times to our customers," notes chief financial officer Dr Christian Danninger. "Our balanced approach has allowed us to ship to our customers supporting their capacity expansion plans."
Together with a dividend payment of €34.8m paid in May, during first-half 2023 cash and cash equivalents (including other current financial assets) hence fell from €325.2m to €210.4m. Of this, €133m has been invested into funds following a very conservative diversification strategy.
Equipment order backlog up 31% year-on-year
First-half order intake rose by 12% year-on-year from €282.8m in 2022 to €317.7m for 2023. Q2 order intake was €177.8m, up on €139.9m last quarter, and the highest quarterly order intake since 2011.
Equipment order backlog is hence up 31% year-on-year, from €314.4m to €412.5m at the end of June.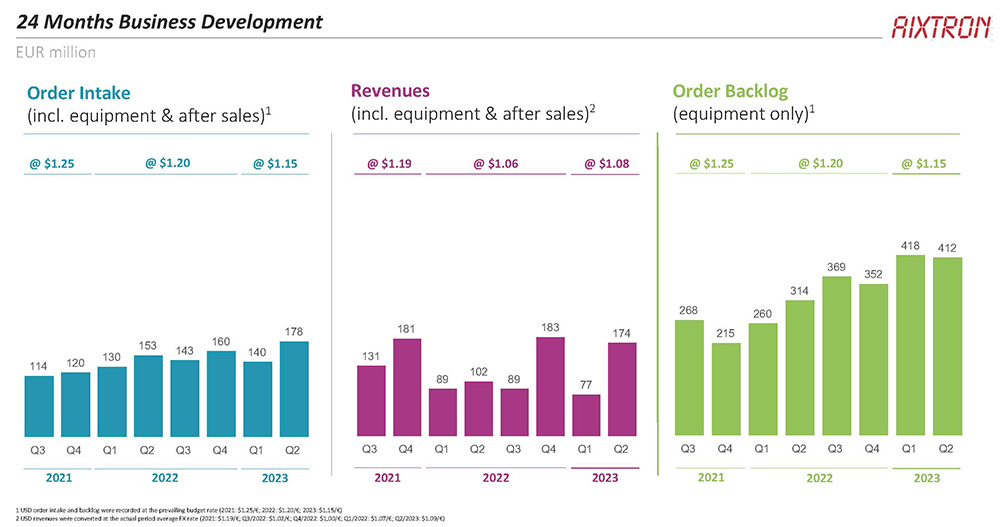 Growth was driven by continued high demand from the addressed end-markets and in particular for efficient power electronics based on GaN and SiC, which accounted by far for the largest share of the order intake. "Customers are ordering equipment for large projects to build high-volume manufacturing capacity," notes CEO Dr Felix Grawert. Aixtron is currently supporting several major customers in setting up production facilities and enabling these important semiconductor companies to manufacture SiC and GaN devices in high volumes. The ground for this is set by the new G10 family of products: the G10-SiC, the G10-AsP and the G10-GaN, which will follow later this year.
"We expect this momentum to continue in the years to come," says Grawert. "A very strong indication of this can be found in e-mobility, where SiC is the preferred material system. Moreover, we already know that our systems for SiC [the G10-SiC] will by far be the top-selling products in our portfolio in 2023," he adds.
Full-year guidance raised for orders and revenue
Due to the unabated strong demand, for full-year 2023 Aixtron has raised its forecast for order intake from €600–680m to €620–700m (up about 11% on 2022's €585.9m) , based on the budgeted exchange rate of $1.15/€ (versus $1.20/€ in 2022).

Based on the first-half revenue of €250.7m, plus equipment order backlog (convertible into 2023 revenue) of €300-330m as of end-June, joined by a forecasted €30m in new order intake that should be convertible into revenue during 2023, plus a forecasted €50m in after-sales revenue, the forecast for full-year revenue has been raised from €580-640m to €600-660m (up about 36% on 2022's €463.2m).
Aixtron continues to expect full-year gross margin of about 45% and an EBIT margin of 25-27%.
"Led by the global megatrends of electrification, digitalization and sustainability, we expect the strong demand for wide-bandgap materials such as SiC and GaN to last and continue," says Danninger. "With our R&D investments and strengthening our organization, we are laying the foundation to benefit from this in the long run."
Aixtron honored with two German investor relations awards
Navitas invests $20m in its first three Aixtron G10-SiC epi reactors
Aixtron introducing new Executive Committee to support CEO and CFO
Aixtron investing up to €100m to build new innovation center
Aixtron's Q1 shipments roughly halved by delays in export licensing
Aixtron maintains annual revenue and earnings growth despite shipment push-outs and delays to export licenses
Aixtron shipment pushouts in Q3 to lead to record revenue in Q4
Aixtron's Q2 revenue up 51% year-on-year, driven by demand from SiC and GaN power electronics
Tags: Aixtron
Visit: www.aixtron.com