News: LEDs
14 September 2021
Seoul Semi launching WICOP TE for headlamps with thermal management effect for EVs
South Korean LED maker Seoul Semiconductor Co Ltd has launched WICOP TE (Top Electrode) LED technology, designed to significantly improve the thermal efficiency of headlamps for vehicles.
The firm reckons that WICOP (Wafer Integrated Chip on PCB) LEDs were applied to 10% of global vehicle production in 2020, and are expected to see increasing demand in the future electric vehicle market. Seoul Semiconductor expects to accelerate the move to expand its market share in the global automotive lighting LED market (which is worth about $2.7bn).
Due to the growing demand for electric vehicles, interest in high-efficiency LED products is growing for headlamps and for reducing battery consumption. Accordingly, the thermal dissipation performance of the headlamp has become key to improving efficiency and lifetime to counter the temperature increase.
Seoul Semiconductor's WICOP TE for headlamps has deviated from the previous method of attaching the LED package to the printed circuit board (PCB) and can attach the package directly on the heat-sink, designed to quickly discharge the heat generated in the headlamp.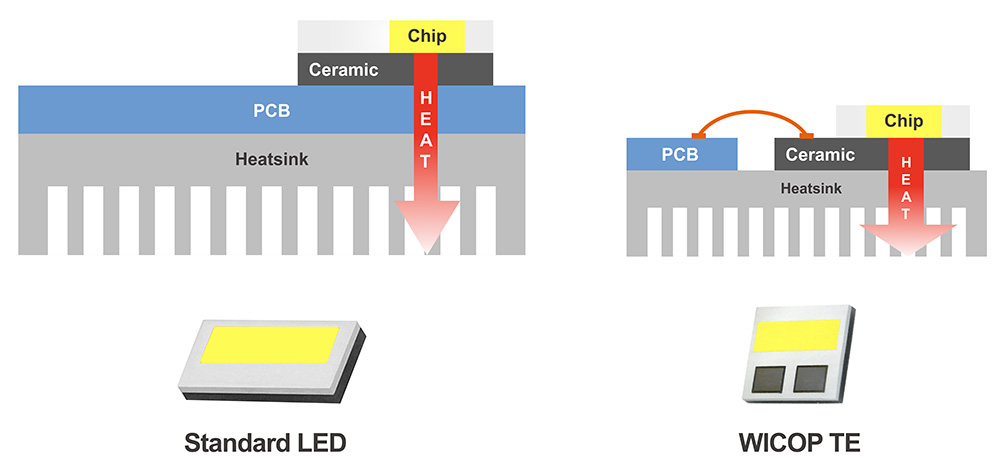 Picture: Schematic comparison of standard LED (left) and WICOP TE (right).
In July, Seoul Semiconductor obtained a permanent injunction against 13 automotive lighting brand LED products infringing WICOP patents. At the 23rd DVN US Workshop in Novi, MI, USA (21 September), the firm will introduce WICOP TE products, SunLike natural-sunlight-spectrum LEDs with interior colors, and Violeds UV LEDs for disinfection in automotive air-conditioning systems.
"Weight reduction and heat dissipation performance of headlamps are more important due to increased demand for electric vehicles and slim headlamp design trends," says Seoul Semiconductor. "Seoul Semiconductor has already applied high-efficiency and high-heat-dissipation WICOP products to more than 100 global vehicle brands, and we expect to increase automotive LED sales through continuous demand expansion in the future."
Seoul Semi introduces next-gen WICOP ultra-high-luminance LEDs
Seoul Semi's WICOP Bi-color LEDs used in headlamp of latest Audi A4
Seoul Semiconductor files patent litigation against automotive LED light distributor Onyx
Tags: Seoul Semiconductor LEDs
Visit: www.SeoulSemicon.com