News: Markets
11 March 2021
Smartphone shipments to grow 5.5% in 2021, driven by strong 5G push and pent-up demand
Global smartphone shipments will grow 13.9% year-on-year in first-quarter 2021 and 5.5% for full-year 2021, forecasts the International Data Corporation (IDC) Worldwide Quarterly Mobile Phone Tracker. This growth will be driven by continued recovery in demand and a supply-side push of 5G devices. IDC expects the smartphone market to deliver a compound annual growth rate (CAGR) of 3.6% over the 2020-2025 forecast period.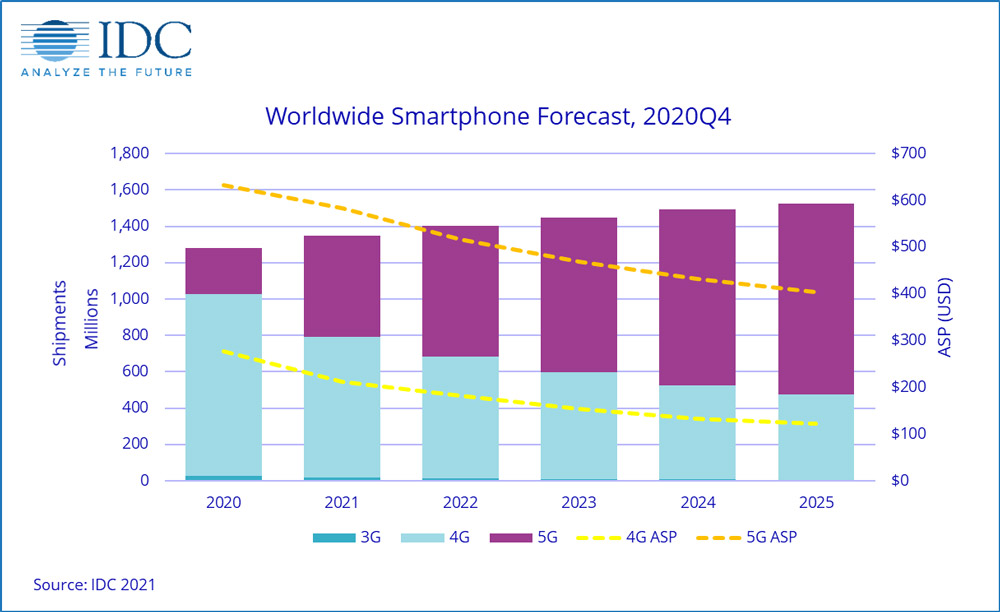 Graphic: Worldwide mobile phone shipments by air interface (3G, 4G, 5G) along with average selling prices for 4G and 5G phones.
"Despite ongoing lockdowns and economic concerns, IDC continues to see strong demand for smartphones. We are also seeing that everyone in the value chain – from supply chains, OEMs and channels to consumers – is better prepared to handle any further lockdowns," says Nabila Popal, research director with IDC's Worldwide Mobile Device Trackers. "IDC has seen accelerated growth in online channels, climbing to 27% share in 2020 from just 20% the prior year, as channels adapt to the pandemic lifestyle. Ramp ups in production and improved channel planning combined with strong pent-up demand are all pointing to healthy growth in the months ahead."
China and the USA, the two largest geographic markets, are forecast to grow by 5% and 3.5% in 2021. The outlook for China remained stable despite several city-level lockdowns in January, reflecting the strength of consumer confidence there. Despite a 10-11% year-on-year decline for both markets in 2020 amidst the pandemic, 5G development and the success of the recently launched iPhones are expected to boost shipments in 2021.
5G remains the driving factor in the industry, accelerated further by the success of Apple's full 5G iPhone 12 line up. IDC expects 5G smartphone shipments to account for more than 40% of global volume in 2021 and grow to 69% in 2025. Both factors have helped to increase the overall average selling price (ASP) for smartphones in 2021 from IDC's previous forecast of $349 to $363. Regarding 5G ASP specifically, increasing competition in the 5G Android space, particularly from Chinese vendors, will bring downward pressure on 5G ASPs, which are expected to drop to $404 by 2025.
"The strong performance in the last quarter of 2020 has led to a huge push from all OEMs to increase production. Although this may create some temporary challenges in production, we do not foresee any significant gap as the manufacturers successfully cope with the ramp up," says Sangeetika Srivastava, senior analyst with IDC's Worldwide Mobile Device Trackers. "On the other hand, this is likely to intensify the pressure on smaller vendors as larger vendors are given priority by ODMs, making it harder for them to obtain targeted volumes."
Smartphone market to fall 7.9% from $458.5bn in 2019 to $422.4bn in 2020
Smartphone shipments fall a record 16% year-on-year in Q2 to 278.4 million
Tags: Smartphone shipments
Visit: www.idc.com