News: Markets
7 January 2021
LiDAR market growing at 34% CAGR from $682m in 2020 to $2.9bn in 2025
Driven by applications such as advanced driver assistance systems (ADAS), autonomous vehicles (AVs), industry, deliveries and smart cities, the light detection & ranging (LiDAR) market is rising at a compound annual growth rate (CAGR) of 34% from $682m in 2020 to $2.932bn in 2025, forecasts market analyst firm TrendForce.

Regarding automotive LiDAR applications (ADAS and AVs), automakers have continued to release NEVs (new energy vehicles, or plug-in electric vehicles) despite the COVID-19 pandemic's negative impact on the global automotive industry in 2020, says TrendForce. Furthermore, these automakers are also adding ADAS to high-end conventional gasoline vehicles and NEVs alike. As an essential component in SAE levels 4-5 autonomous vehicles, LiDAR systems are used by automakers to both build their databases and increase vehicle location accuracy. In addition, automotive LiDAR is also featured in autonomous buses, robo-taxis, and self-driving trucks. Total automotive LiDAR revenue is expected to reach $2.434bn in 2025. At the moment, major automotive LiDAR suppliers include Velodyne, Valeo, Quanergy Systems Inc, ibeo, Continental, LeddarTech, INNOVIZ, HESAI, LeiShen, and Luminar, while major LiDAR laser suppliers include Osram, Laser Components, Excelitas, and Hamamatsu.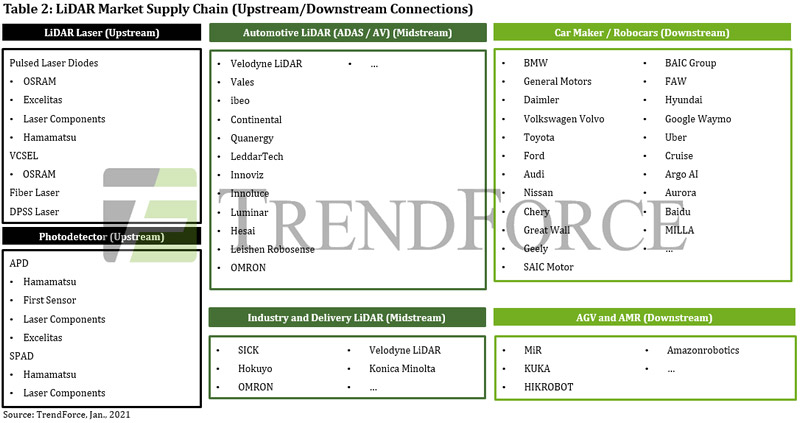 Regarding delivery and logistics, the rising popularity of e-commerce has prompted online vendors and delivery companies to lower their last-mile delivery costs by performing deliveries with autonomous delivery robots, bicycle couriers and self-driving trucks, leading to increased demand for delivery robots with self-navigation and autonomous decision-making capabilities, notes TrendForce. Major e-commerce companies that have been promoting these delivery methods include Alibaba, Amazon, FedEx and Jingdong (also known as JD.com).
Likewise, growth in the industrial automation market has been lackluster due to the pandemic, with most companies having deferred their previous expansion plans in consideration of budgets, although certain companies wary of potential future shortages in human labor are investing additional capital into industrial automation development against the market downtrend. Having seen various deferred developments throughout 2020, the European and North American markets are expected to see surging demand for industrial automation applications starting in third-quarter 2021. On the whole, TrendForce forecasts $469m in revenue for the industry and delivery LiDAR markets in 2025. Major LiDAR suppliers in these markets currently include SICK, Hokuyo, OMRON and Velodyne.
With increasing demand for ADAS, AVs and industrial automation, LiDAR market value will be boosted by rising LiDAR usage volumes, concludes TrendForce.
Tags: LiDAR
Visit: www.trendforce.com