News: Suppliers
9 August 2021
Aixtron doubles EBIT in first-half 2021 as revenue grows 21% year-on-year
Deposition equipment maker Aixtron SE of Herzogenrath, near Aachen, Germany has reported revenue growth of 21% from €97m in first-half 2020 to €117.2m in first-half 2021 (with 78% coming from equipment sales and 22% from after-sales service & spare parts). This was due mainly to second-quarter 2021's revenue of €67.7m being up 37% on Q1's €49.5m. Of Q2 revenue, 61% was attributable to optoelectronics applications, 30% to power electronics (in particular gallium nitride) and 7% to light-emitting diodes.
On a regional basis, 62% of first-half 2021 revenue came from Asia (down from 76% in first-half 2020), 32% from Europe (up from just 11%) and just 6% from the Americas (down from 13%).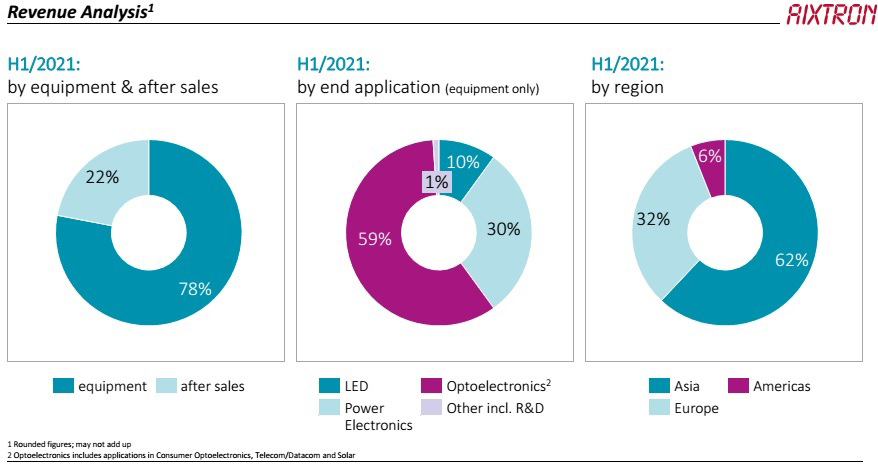 Gross margin of 39% in first-half 2021 was level year-on-year, although quarterly gross margin improved from 35% in Q1 to 41% in Q2.
Operating expenses rose by 14% from €35.3m in first-half 2020 to €40.2m in first-half 2021, comprising €18m in Q1 rising to €22.3m in Q2. However, the increase is due mostly to €3.2m in one-time expenses for realigning the business activities of South Korea-based organic light-emitting diode (OLED)-focused subsidiary APEVA.
Doubling of EBIT
Due to the revenue growth, Aixtron's earnings before interest and taxes (EBIT) operating result more than doubled from €2.2m (EBIT margin of 2% of revenue) in first-half 2020 to €4.9m (4% margin) for first-half 2021, with -€0.7m EBIT (-1% margin) in Q1 being more than compensated by €5.6m (8% margin) in Q2.
In addition, the capitalization of deferred taxes on loss carry-forwards amounted to €3.4m in Q2/2021, more than doubling net profit from €3.8m in Q1 to €7.7m in Q2, or €11.5m collectively in first-half 2021 (compared with just €2.5m in first-half 2020).
Due mainly to a significant increase in customer prepayments (reflecting the positive order situation), working capital rose by €42.6m in first-half 2021, and operating cash flow was €52.6m. After capital expenditure (CapEx) of €6.5m, free cash flow was hence €46.1m (comprising €28.1m in Q1 and €18m in Q2), compared with -€8.4m in first-half 2020. Aixtron reported a decrease in equity ratio during first-half 2021, from 84% to 73%. Also, for full-year 2020, the firm hence distributed a dividend to its shareholders for the first time in ten years.
Highest order intake and backlog in ten years
Order intake rose by 90% from €138.4m for first-half 2020 to €263.3m in first-half 2021 (the highest half-year revenue in the past ten years). This included Q2/2021 orders of €139m (the highest quarterly figure since Q2/2011), up 12% on the already strong €124.4m in Q1 and roughly doubling from €69.6m in Q2/2020. Customers particularly requested equipment for GaN power electronics applications, optical datacoms and LEDs for fine-pitch displays and indoor farming.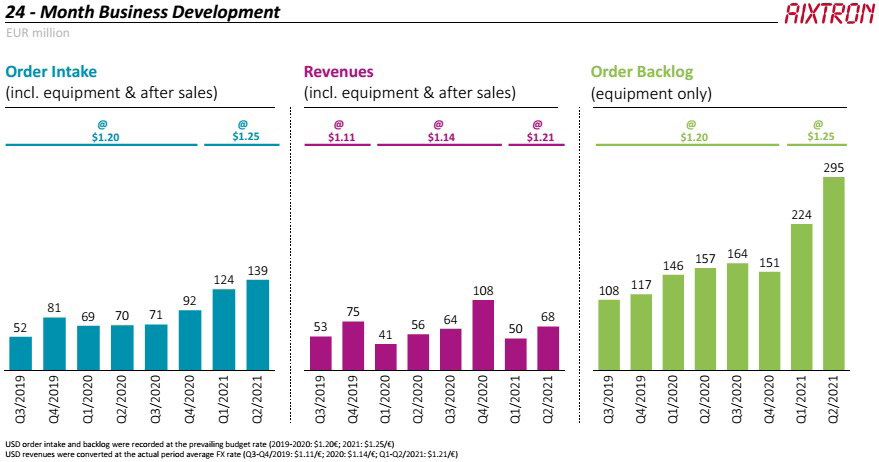 Equipment order backlog at the end of the June was €295m (the highest volume in the past decade), up 32% on €223.5m at the end of Q1 and up 88% on €156.6m a year previously.
Order intake forecast raised again, from €320-360m to €400-440m
After already (on 9 June) raising its guidance for full-year 2021 order intake from €340-380m to €420-460m, due to the dynamic order development Aixtron has now raised its guidance again, to €440-480m.
With revenue growth expected to accelerate through Q3 and Q4/2021, the firm has also reiterated its guidance for full-year revenue of €400-440m (previously raised on 9 June from prior guidance of €320-360m). Aixtron still expects gross margin of 40%, and EBIT margin of 20-22% of revenue (raised on 9 June from prior guidance of 18%).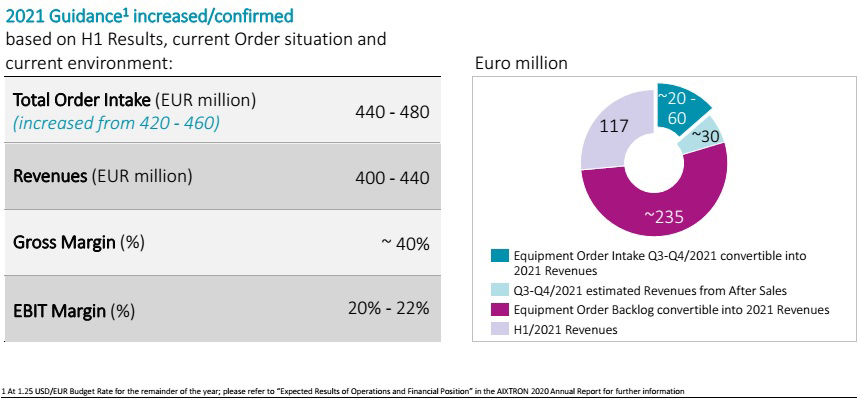 Aixtron notes that expectations for 2021 are based on the assumption that the COVID-19 pandemic continues to have no significant impact on the development of the business. With all interested employees at headquarters vaccinated against COVID-19, the firm targets a 50% presence in its HQ's offices. The supply chain remains stable, it adds.
"Customer demand is very high in all end-markets relevant to us," notes president & CEO Dr Felix Grawert. "In particular, Aixtron's equipment for the production of gallium nitride power electronics, for the production of components for 5G network expansion and for high-speed optical data transmission is in high demand. This trend is unbroken, and we expect to continue to see very dynamic revenue growth in the second half of the year," he adds. "The gallium nitride material system in particular opens up competitive advantages for our customers in terms of performance, but also with regard to energy consumption and the associated CO2 emissions. Our customers are increasingly taking advantage of gallium nitride in devices," Grawert concludes.
Aixtron raises guidance for full-year order intake, revenue and EBIT margin
Aixtron's Q1 revenue up 21% year-on-year, driven by optoelectronics
Imec and Aixtron demo 200mm GaN epi on AIX G5+ C for 1200V applications with breakdown over 1800V
Aixtron's AIX G5+ C MOCVD system selected for micro-LED production
Aixtron's growth accelerates in Q4
Aixtron's Q3 up 21.9% year-on-year
Aixtron's revenue rebounds by 37% in Q2
Visit: www.aixtron.com