News: Optoelectronics
26 April 2021
Vector Photonics appoints PCSEL co-inventor as director of product development
Vector Photonics Ltd (which was spun off from Scotland's University of Glasgow in March 2020, based on research led by professor Richard Hogg) has appointed Dr David Childs as director of product development.
Childs co-invented all-semiconductor photonic-crystal surface-emitting lasers (PCSELs), Vector Photonics' proprietary laser technology. In his new role, he will supervise operations, developing new PCSEL designs into production-ready devices, for the company's initial target markets: datacoms, light detection & ranging (LiDAR), 3D metal printing and 3D plastic printing.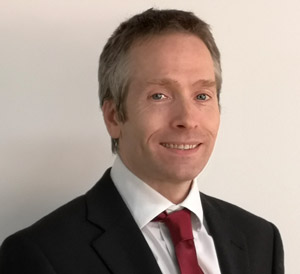 Picture: David Childs, Vector Photonics' new director of product development.
"David brings exceptional semiconductor laser design and optimization experience to the company, from design and simulation through to testing and reliability analysis," comments CEO Neil Martin. "His expertise extends across surface-emitting, continuous-wave, modulated, telecommunications, tunable and swept-source lasers."
Childs has come from the University of Glasgow's School of Engineering, where he was part of the Photonic Devices and Systems Group of the Electronics and Nanoscale Engineering Division. Before that, he was with the University of Sheffield's Semiconductor Device Group. He has a PhD from Imperial College, London, has published over 60 peer-reviewed journal papers, and has numerous patents to his name.
Childs' industrial experience began as a research scientist at Marconi Optical Components and Bookham Technology (since acquired by Lumentum Holdings Ltd). He has also worked extensively on university collaboration projects with industrial partners QD Laser, CST Global, BB Photonics, Denselight Semiconductors, POET Technologies, II-VI, Huawei, Compound Photonics, Filtronic, and M Squared Lasers.
Vector's £1.6m equity investment takes seed funding round to £4m
Vector leading £1.5m BLOODLINE project to develop chips for 3D metal laser printers
Vector Photonics appoints development engineer
Tags: Laser diodes
Visit: www.vectorphotonics.co.uk