News: Suppliers
29 March 2023
Welsh Government to expand Newport's compound semiconductor cluster
Following a trade mission to California's Silicon Valley last week, the Welsh Government's Economy Minister Vaughan Gething says that it is progressing with plans to expand the compound semiconductor cluster in Newport, South Wales.
The Welsh Government is working with Silicon Valley-based semiconductor equipment maker KLA Corp's SPTS division – which provides wafer processing solutions to semiconductor and microelectronic device manufacturers – to support its plans to expand its operations in Newport as part of an already announced $100m investment.
The firm, which currently employs over 550 people in the city, is developing its new base at Newport's Celtic Lakes, which is home to a cluster of companies including Vantage (Europe's largest data center), epiwafer and substrate maker IQE plc, and the Compound Semiconductor Applications Catapult.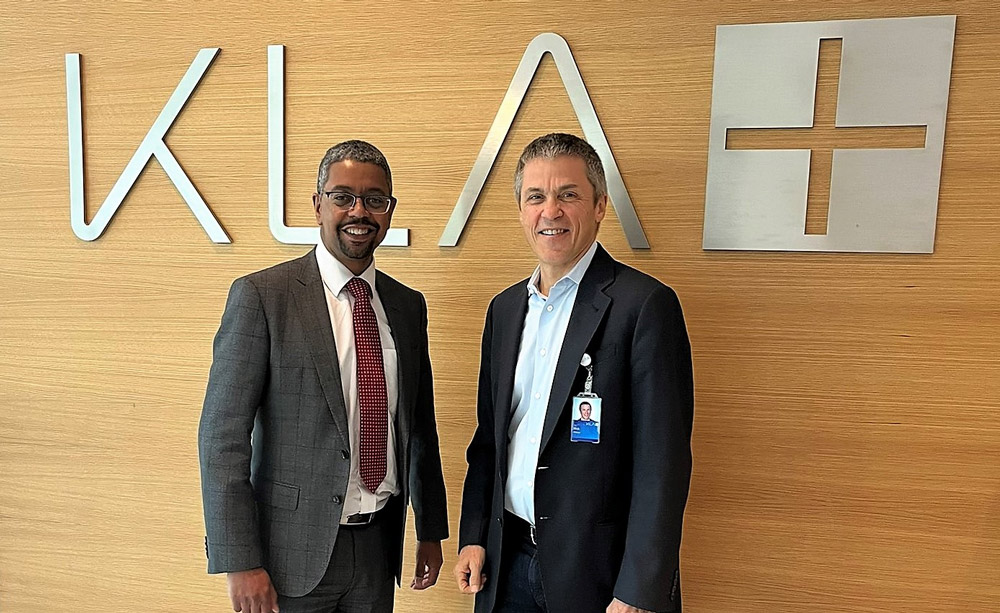 Picture: Welsh Government Economy Minister Vaughan Gething at KLA.
Gething met the chief executive and other members of KLA's executive team during the trade visit to Silicon Valley, where he reiterated the Welsh Government's commitment to the sector.
The Welsh Government's plans include work to upgrade infrastructure on the Celtic Lakes site, skills development to ensure that a continued pipeline of talented staff is available to take up new jobs in the sector, and to develop local supply chains – helping to ensure that other local companies benefit.
Following the trade visit, the Welsh Government is calling on the UK Government to prove its commitment with a fully funded plan for the future of the semiconductor sector that drives up growth, reduces consumer costs and strengthens security at home.
The Economy Minister warned that the UK is falling behind the ambitious mission set in the USA, which is a national priority for the Biden Administration.
"We are serious about backing a semiconductor sector that will drive up growth, create jobs and lower costs for consumers," says Gething. "Wales is a global player in the industry that deserves the backing of UK plc as a whole. Newport's compound semiconductor and technology cluster supports hundreds of well-paid jobs in an industry that powers the technologies people across the globe rely on to live their lives," he adds. "During my visit to California's Silicon Valley, I promoted Wales' reputation as a nation with a thriving semiconductor cluster and our determination to keep it that way. The Welsh Government is now progressing plans at pace to allow KLA to expand its operations in Newport, which we expect to unlock hundreds of new jobs – supporting our ambition to create new green jobs in the industries of the future."
Gething is calling on the new UK Government Department for Science, Innovation and Technology to publish a long-awaited comprehensive and fully funded semiconductor strategy to support the sector, and to protect Welsh and British jobs. "It's time for the UK Government to get on the pitch with a plan that matches the commitment of our global partners," he stresses. "The new Secretary of State for Science, Innovation and Technology has a great opportunity to bring forward some good news and much needed certainty for the industry by publishing a new strategy that's fit for the future. We are ready to work in partnership to make this happen."
KLA to build new R&D and manufacturing facility for SPTS in Newport, Wales
Tags: KLA-Tencor SPTS CSConnected
Visit: http://csconnected.com
Visit: www.spts.com
Visit: www.kla.com