News: LEDs
22 March 2023
ams OSRAM adds OSLON UV 3535 series to mid-power UV-C LED range
ams OSRAM GmbH of Premstätten, Austria and Munich, Germany has introduced the OSLON UV 3535 series of mid-power UV-C LEDs, meeting customers' requirements for longer lifetime, higher output power and easier system integration.
With a typical wavelength of 275nm, the OSLON UV 3535 LEDs combine a compact design with what is claimed to be leading efficiency and high quality, making them suitable for use in consumer or industrial applications such as water purification or air-conditioning systems. These products show a typical output power of 40mW at a drive current of 185mA for the SU CULDP1.VC, and 75mW at 350mA for the SU CULEP1.VC (both now available worldwide).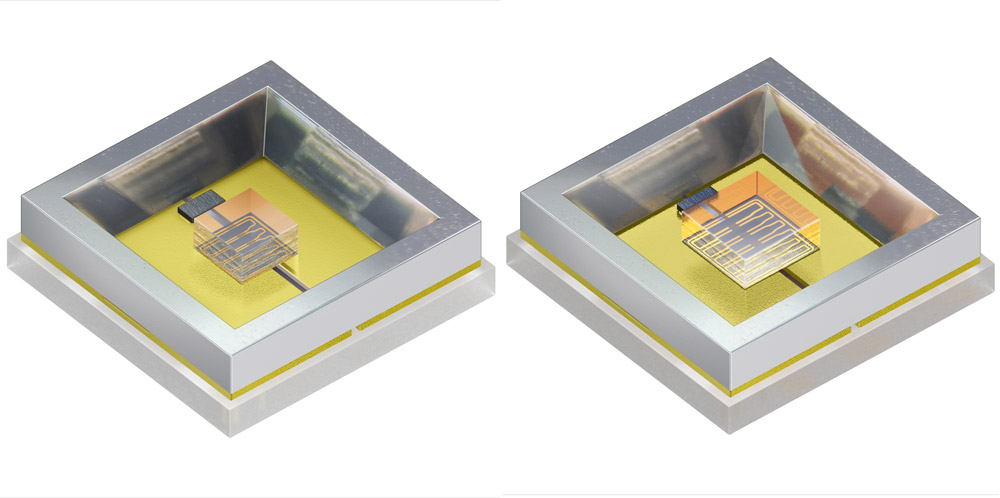 Picture: ams OSRAM's new SU CULDP1.VC (left) and SU CULEP1.VC (right) UV-C LEDs.
The new package design with no cover glass and an integrated reflector improves output by reducing optical losses and leads to a comparably high wall-plug efficiency of 3.7%. The reflector collects the die's emissions and directs the light forward with a viewing angle of 120°. A standard 3.5mm x 3.5mm footprint and the absence of cover glass and lens give system designers the flexibility to apply a standard UV-C lens and to optimize the light output for their application.
A further advantage of the SU CULDP1.VC and SU CULEP1.VC is an application-dependent lifetime. The package also includes an ESD protection device and a transparent dielectric coating as a protective element, contributing to the robustness of the LED.
"Manufacturers of UV disinfection equipment are competing to provide the most value to customers by producing the required disinfection dose with fewer and longer-lasting emitters," notes Pia Weinmann, senior product manager for UV-C. "The OSLON UV 3535 products offer a new competitive edge with their increased output power and lifetime."
Technology innovation boost performance
ams OSRAM says that the enhanced performance of the OSLON UV 3535 LEDs is the result of innovations in package design and semiconductor technology. The new open package design is said to be robust, compact and flexible for use in applications that require medium to high UV-C output power.
The AlGaN-based flip chip is said to be a more reliable radiation source than traditional UV-C sources and provides flexibility in terms of wavelength, output power and switching. The products are part of a performance roadmap to further enhance the firm's position in the fast-developing UV-C market.
ams OSRAM launches 100mW UV-C LED with 5.7% wall-plug efficiency at 265nm
Osram unveils its first UV-C LEDs
Visit: www.ams-osram.com