News: Microelectronics
16 February 2023
Germany's President visits Infineon's Kulim 3 fab site in Malaysia
Infineon Technologies AG of Munich, Germany, says that, as part of his trip to Asia, Germany's President Frank-Walter Steinmeier visited its Infineon Technologies (Kulim) Sdn Bhd site in Kulim Hi-Tech Park (KHTP), Malaysia. The visit focused on Infineon's contribution to enabling the global energy transition with energy-saving semiconductor solutions, as well as by investing in solutions that further reduce the CO2 footprint in its chip manufacturing.
Infineon is currently spending €2bn on building a third fabrication plant at the Kulim site that will focus on compound semiconductors such as silicon carbide (SiC) and gallium nitride (GaN) that enable further energy-efficiency increases, e.g. in wind turbines, solar power systems, e-vehicles and charging infrastructures. Kulim 3 will be ready for equipment in summer 2024 and will create 900 jobs. Infineon confirmed that construction work is on schedule.
During Steinmeier's visit, Infineon presented its investment in expanding the exhaust-air purification system at the Kulim site. Avoiding CO2 emissions is a priority for Infineon in implementing its climate strategy. Modern exhaust-air purification systems offer the greatest leverage in this regard. The upgrade in Kulim is expected to result in a reduction of about 8% in global direct site-related emissions (Scope 1) by the end of the 2023 fiscal year compared with the previous year. A planned new exhaust-air purification system in Austin, TX, USA, will lead to further savings.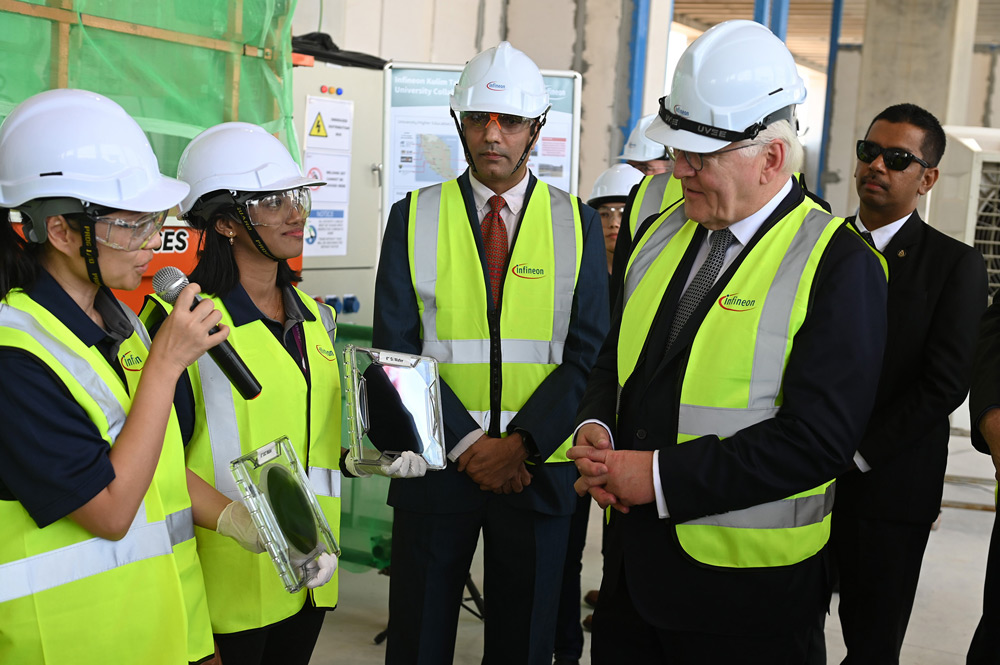 Picture: Tan Bee Hoon and Malathi Karthigesu of the Infineon Kulim Technology Development team explaining to President Steinmeier about compound semiconductor technology during his visit to Kulim 3.
Infineon has also set the goal of operating 100% of its plants in Malaysia with green electricity in the future and is in close exchange with local suppliers and the government to this end. The initiative aims to further improve Infineon's positive climate contribution. The firm reckons that its energy-efficient solutions currently help to save 33 times the amount of CO2 emitted during their production.
"The growing demand for renewable energy, e-vehicles as well as energy-efficient applications will lead to a strong increase in the demand for power semiconductors," says C.S. Chua, president & managing director of Infineon Asia Pacific. "Our investments in Kulim and beyond are laying the foundation for being able to serve this growing need as well."
Infineon lays foundation of third wafer fab module in Kulim, Malaysia
Infineon investing €2bn in third module at Malaysia front-end fab for wide-bandgap power semiconductors
Tags: Infineon Power electronics
Visit: www.infineon.com