News: Microelectronics
4 October 2022
SweGaN raises €12m in Series A financing to expand production capacity
SweGaN AB of Linköping, Sweden, which manufactures custom gallium nitride on silicon carbide (GaN-on-SiC) epitaxial wafers (based on a unique growth technology) for telecom, satellite, defense and power electronics applications, has completed a Series A financing round totaling SEK125m (€12m). The financing was co-led by Intertech Ventures, Mount Wilson Ventures and European investor Atlantic Bridge, with participation by STOAF of Sweden and global fabless semiconductor firm MediaTek, forming a global network spanning the USA, Taiwan and Europe. Fred Chang of InterTech Ventures, David Lam of Atlantic Bridge and semiconductor manufacturing executive Walter Wohlmuth have joined SweGaN's board.
SweGaN reckons that the performance of its GaN epitaxy process opens up new applications in the multi-billion-dollar GaN-based radio frequency (RF) and power markets. Powered by its patented QuanFINE buffer-free GaN-on-SiC epiwafers, customers can reach levels of device performance and reliability previously unachievable with conventional materials available on the market, it is claimed. The firm has more than 30 paying customers and is in qualification for a wide range of applications in Europe, the USA and Asia.
The investment allows SweGaN to significantly increase production capacity to meet market demand from major suppliers of 5G base-stations, defense radars, low-orbit satellite communications and on-board chargers in electric vehicles (EVs). Additionally, the financing empowers the firm's plans to expand its executive team and to boost engineering, sales and production staff.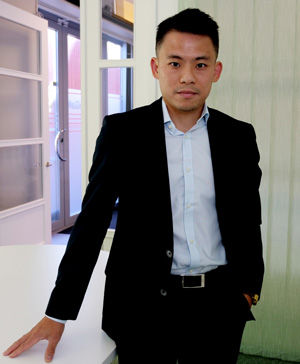 Picture: SweGaN's CEO Jr-Tai Chen.
In conjunction with the investment, from 1 September, chief technology officer Jr-Tai 'Ted' Chen (who co-founded SweGaN in 2014 and invented its proprietary QuanFINE technology) has been appointed CEO, replacing chairman Jonas Nilsson (who has been interim CEO since the fall 2020).
"I look forward to our continued work together to fulfill SweGaN's strategy, vision and future-oriented goals for serving the industry with the best GaN-on-SiC technology available on the market," says Nilsson. "Since starting SweGaN, Ted has displayed remarkable determination, passion and professional growth, and he is well equipped to lead SweGaN's in this next chapter of its journey to become a dominant player in the GaN-on-SiC market," he adds.
"As we move from silicon to the third wave of semiconductor materials, GaN and SiC are poised to dominate," believes David Lam, general partner at Atlantic Bridge. "SweGaN's revolutionary GaN-on-SiC technology brings together these two key materials to enable RF and power performance characteristics that are simply impossible to achieve today," he adds.
"This strategic financing round enables us to lift SweGaN to the next level and beyond in our growth journey and positions us to execute on the SweGaN vision and strategy," says Jr-Tai Chen. "To meet explosive market demand, SweGaN's roadmap targets building of new production facilities and expanding our team to deliver of tens of thousands of epiwafers annually," he adds.
"We are thrilled to welcome seasoned semiconductor investor Atlantic Bridge and global fabless semiconductor leader MediaTek as investors into SweGaN," comments Richard Weil, general partner at Mount Wilson Ventures. "We have been delighted to support SweGaN through the early stages of development and commercialization of its industry-leading epitaxial technology. Now, with this financing, SweGaN has access to the financial resources and industry experience required to scale to the next level."
Tags: GaN-on-SiC HEMT Epitaxial wafers
Visit: www.swegan.se