News: Microelectronics
12 May 2022
Mitsubishi Electric adds 400A, 1200V dual module to SiC power device lineup
Mitsubishi Electric has launched the FMF400DY-24B, a 400A, 1200V dual silicon carbide (SiC) MOSFET power module that includes an anti-parallel, low Vf, zero-recovery-loss SiC Schottky barrier diode (SBD).
The module packages new designs into an existing industry-standard footprint (62mm x 108mm) for medical power supplies and general industrial applications. Designed for Vgs(on)=15V, the module is compatible with standard insulated-gate bipolar transistor (IGBT) gate drivers and can be seamlessly incorporated into existing mechanical layouts for easy upgrades from silicon IGBT technologies.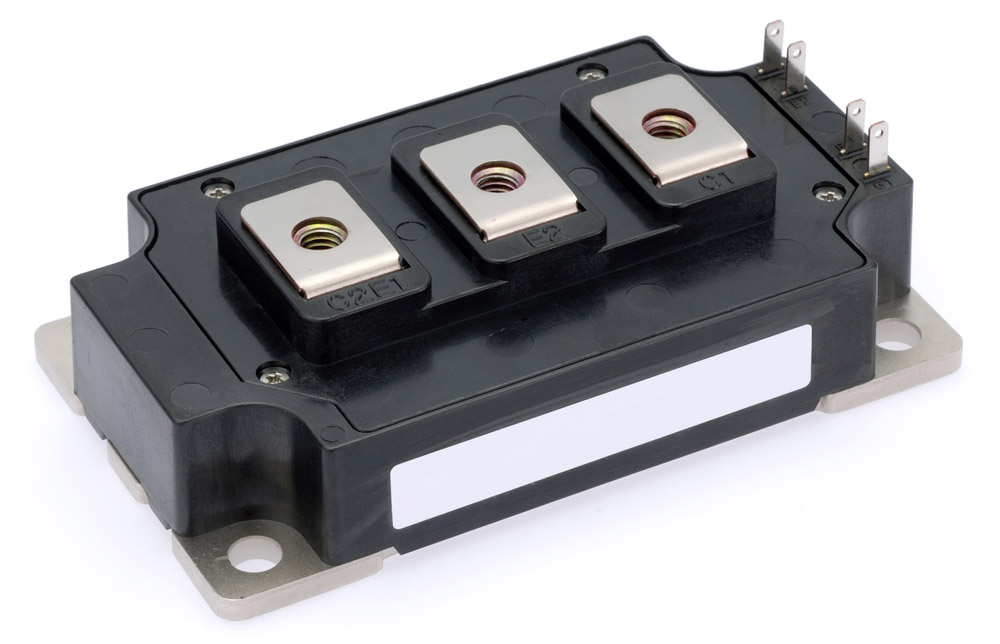 Picture: Mitsubishi Electric's FMF400DY-24B SiC module, available now in a familiar footprint.
Using Mitsubishi Electric's second-generation SiC MOSFET chip technologies (suitable for applications requiring high switching frequencies), the new SiC module is reckoned to reduce power loss by about 70% compared with an equivalently rated silicon IGBT.
"This new module is in a classic package footprint, with the latest technology inside for superior function and flexibility," says Adam Falcsik, senior product manager of Mitsubishi Electric US's Power Device group. "The FMF400DY-24B adds to Mitsubishi Electric's growing lineup of SiC products."
Mitsubishi to launch second-generation full-SiC power modules for industrial use
Tags: SiC power modules Mitsubishi Electric
Visit: www.mitsubishielectric.com/semiconductors/products/powermod