News: Microelectronics
29 March 2022
GaN Systems and GSR conducting Internet data center power supply field trial
GaN Systems Inc of Ottawa, Ontario, Canada (a fabless developer of gallium nitride-based power switching semiconductors for power conversion and control applications) and Xuzhou GSR Semiconductor Co Ltd have jointly announced what is claimed to be the first industry field trial of GaN in the power infrastructure of an Internet data center (IDC), reckoned to be a key milestone toward the universal adoption of GaN in IDCs.
Offering higher power density with exceptional reliability, GaN Systems reckons that its technology can enable up to 20% energy savings for a data center compared to the use of legacy silicon power semiconductors. These energy savings increase profit margins, lower energy consumption, and reduce the data-center carbon footprint. The field trial is a critical step toward global adoption of GaN in IDCs, as it confirms the magnitude of energy savings for positive environmental impact while meeting the rigid reliability requirements of data-center operators, says GaN Systems.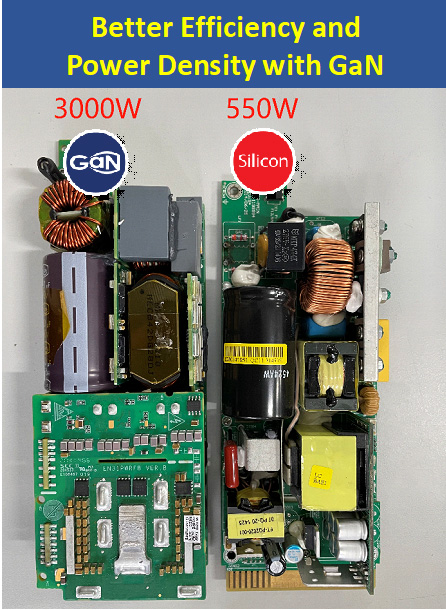 Picture: 3000W GaN power supply versus 550W silicon power supply (Xuzhou GSR Semiconductor Co Ltd).
Industry insiders have high expectations and are paying close attention to progress in adopting GaN in data-center power supply systems, says the firm. According to the China Institute of Communications (CIC), in 2020 data-center power consumption in China exceeded 200 billion kWh (about 2% of China's total power consumption), accounting for a power usage effectiveness (PUE) of 1.49 and carbon dioxide emission of 135 million tons and a carbon intensity (CUE) of 0.82 (about 1.14% of national carbon dioxide emissions). The '14th Five Year Plan for Digital Economy Development' requires Chinese companies to comply with the principles of low-carbon and energy efficiency, continuously promote green construction, accelerate energy savings, and improve the utilization of renewable energy in data centers. It is critical for data centers to improve energy efficiency as China aims to achieve carbon neutrality. The adoption of new technology for energy efficiency and carbon reduction in data centers should not only promote green development for data centers but also help China to reach carbon neutrality by 2060, it is expected.
"Our company has dedicated years of effort to develop fast-charging devices for electric vehicles, solar inverters and IDC power supplies around the world," says GaN Systems' CEO Jim Witham. "GaN Systems is thrilled to partner with GSR Semiconductors and other leading customers, such as Great Wall and the Chinese Academy of Sciences, to leverage our highly efficient and high-reliability GaN semiconductors to support China's goal to reach carbon neutrality by 2060," he adds.
"Up to 20% energy savings for data centers is a disruptive technological innovation, thanks to the adoption of the latest GaN semiconductor technology," comments GSR Semiconductors' chairman Sonny Wu. "We expect more Chinese technology companies like Xuzhou GSR Semiconductor to build a local supply chain for high-end GaN chips for EV and IDC applications."
The beta test was first launched in March at the High Performance Computing Centre of the Physics Department at Northwest University (NWU-HPC). More data centers will be selected for trials going forward.
The power supplies for this trial (which has received support from Shenzhen Frontier Lab, a unit of HG Semiconductors) were designed in Beijing and leveraged technology from GaN Systems and GSR Semiconductor. Analysis indicates that the energy efficiency of the new power supply at 50% load is up to 98% (4% higher than that of traditional silicon-based power supplies). This alone can reduce total energy consumption of the data center by 10%. When combined with the replacement of UPS power supplies and cooling systems in data centers, the energy reduction is expected to reach up to 20%.
According to the recently released plan of the national computing power network, China has eight national hub nodes and ten large data-center clusters. The use of GaN power transistors for more energy-efficient PSU power modules can offer a foundation for the development of energy-efficient data centers, hence supporting China's target of carbon neutrality by 2060.
GaN Systems exhibiting power supplies for data centers
GaN Systems showcasing power electronics solutions at APEC
Tags: GaN Systems
Visit: www.gansystems.com