News: Markets
18 August 2022
Micro-LED large-sized display chip market to reach $2.7bn by 2026
According to the report 'TrendForce 2022 Micro LED Self-Emitting Display Trends and Analysis on Supplier's Strategies', 4-inch wafers for micro-LED large-sized displays will reach about 1.14 million units by 2026, with the chip market rising at a compound annual growth rate of about 241% from 2021 to $2.7bn in 2026.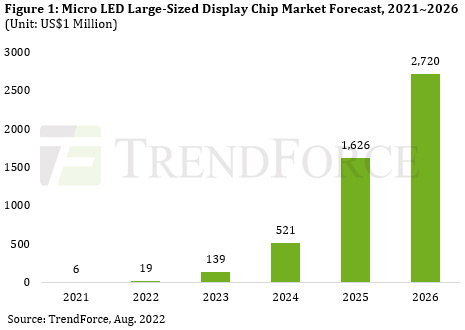 Large-sized displays are currently the most anticipated products among a number of micro-LED display applications, says TrendForce. However, the greater micro-LED market remains at an R&D and experimental stage as branded manufacturers have yet to launch mass-produced products. There are still technical and cost bottlenecks that need to be completely overcome before mass production and commercialization are feasible, including the improvement of wafer wavelength uniformity, increasing mass-transfer production capacity, and improving the glass backplane metallization yield rate. Therefore, future efforts to overcome technical bottlenecks will focus on wafers, mass transfer, and glass backplane metal processes. After the relevant technologies are mature, costs can be quickly reduced and mass production and commercialization accelerated, it is expected.
At its Micro LED Forum 2022 on 13 September, TrendForce will reveal the current progress of various manufacturers in developing large-sized displays from the perspectives of epitaxy, mass transfer, backplane technology, and equipment development. In terms of epitaxy equipment, the forum will discuss the methodology of manufacturing micro-LED epitaxial wafers with wavelength uniformity, low defect rates, and low cost as a key to reducing wafer costs. In the seminar, AIXTRON will introduce the MOCVD solution for mass production of micro-LED wafers.
In terms of mass transfer, large-sized display mass transfer technology is primarily based on stamp and laser transfer. At this stage, stamp transfer technology is still mainstream but, due to the characteristics of red light wafer material, it is easy to cause wafer damage and stamping losses, resulting in a decrease in production yield. In addition, transfer cost depends on the size of the transfer head and the utilization rate of the wafer. Compared with stamp technology, laser transfer technology possesses the characteristics of speed, precision and high efficiency, which will help to greatly reduce mass-transfer cost in the future. However, intensive initial equipment investment has become one of the obstacles in micro-LED mass-transfer technology development. The Micro LED Forum 2022 features a large number of transfer equipment manufacturers including Contrel, K&S, and Ultra Display Technology. The forum also discusses future developments in micro-LED large-sized displays, starting from transfer technology.
In terms of driving backplanes, the active driving design scheme with seamless splicing technology has an opportunity to become the mainstream design used in micro-LED large-sized displays in the future. Currently, side wire plating glass metallization technology has yet to become completely viable. After this technology is perfected, rapid cost reduction will fully unlock the advantages of an active drive backplane. The forum has also invited panel makers that are actively deploying glass-driven backplanes such as AUO, BOE and Luxnet to discuss development trends in related designs. In addition, PanelSemi will also share its experience and describe new opportunities for active flexible substrates. Macroblock, which is focused on driver ICs, is analyzing the role that micro-LED large-sized displays play in the metaverse.
TrendForce indicates that, as micro-LED large-sized display technology and cost continues to improve, coupled with aggressive planning on the part of international branded manufacturers, there will be opportunities to accelerate the realization of commercialized micro-LED large-sized display products. Future development trends will include commercial-grade cinema screens and indoor public display screens and consumer-grade TVs focused on home theaters. Although current product pricing remains high, as the development of technology, equipment and related components matures, micro-LED large-sized displays will be the first choice for the high-end display market in the future, reckons TrendForce.
Micro-LED transparent AR smart glasses chip market to grow to $38.3m by 2026
Micro-LED AR smart glass display chip market to jump from $5m in 2025 to $41m in 2026  
Micro-LED chip market for large-sized displays to grow at 204% CAGR from $54m in 2022 to $4.5bn in 2026
Tags: microLED LED market