News: LEDs
17 August 2022
QustomDot and MICLEDI to co-develop polychromatic micro-LEDs via color conversion
Ghent University spin-off QustomDot (which combines quantum dot synthesis, surface engineering and ink/photoresist formulation into patterned color conversion layers for micro-LED displays) and MICLEDI Microdisplays B.V. of Leuven, Belgium – a fabless developer of micro-LED display modules for augmented reality (AR) glasses that was spun off from nanoelectronics research center IMEC in 2019 – have announced a joint development program to demonstrate full-color micro-LED integration in polychromatic pixel arrays.
MICLEDI's technology is based on a combination of III/V materials processing, 3D integration and 300mm silicon-based processing combined with a proprietary ASIC to provide a self-contained, compact monolithic AR display with high image quality and power efficiency.
The new technology addresses the growing demand for compact and energy-efficient micro-displays for AR applications.
New developments, such as this project, are supported by Flanders Innovation and Entrepreneurship (VLAIO). The Flanders-based consortium enables development of technology for micro-displays with high resolution and high brightness, combining:
stable, RoHS-compliant quantum dot (QD) color conversion materials;
a new micro-LED architecture tailored for high-efficiency color conversion;
high-throughput QD transfer and patterning techniques on micron-sized pixels.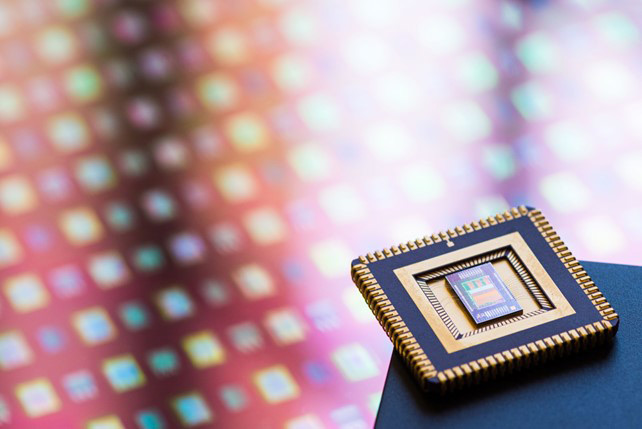 Picture: MICLEDI's micro-LED arrays (blue GaN, 3um pixel pitch) for polychromatic QD integration.
"Our patented method for producing RoHS-compliant QDs delivers high-quality and stable materials. This makes them effective for micro-LED applications, which will accelerate product development in this untapped market," reckons QustomDot's chief technology officer Willem Walravens.
"Polychromatic arrays are an important development for micro-LED products," says MICLEDI's chief technology officer Dr Soeren Steudel. "The manufacturing precision of MICLEDI's 300mm micro-LED approach is a perfect enabler for highly efficient color conversion. Our new pixel architecture has been optimized for high aperture (>60% aperture at a 3µm pixel pitch), which is a key requisite to achieve a high brightness with quantum dots," he adds.
"We are pleased to support the new micro-LED developments with IMEC's extensive technology background and know-how in the field of high-resolution patterning and transfer, states professor Geert Van Steenberge, R&D team leader at IMEC-UGent. "We will continue moving the state-of-the-art in pixel resolution, uniformity and process throughput."
MICLEDI launches first micro-LED devices with integrated micro-lenses
MICLEDI presenting 300mm micro-LED array technology for AR glasses at Display Week
MICLEDI collaborating with GlobalFoundries on manufacturing micro-LED displays for AR glasses
Tags: microLED
Visit: www.micledi.com
Visit: www.qustomdot.com
Visit: www.imec.be