News: Markets
3 September 2021
GaN power device market to grow at 78% CAGR to $850m in 2025
Demand for telecom base stations, converters, and charging stations has seen considerable growth this year as a result of ongoing developments in 5G telecoms, consumer electronics, industrial energy conversion, and new energy vehicles (NEV), according to TrendForce's latest investigations. This demand generated a corresponding surge in demand for components and devices powered by 'third-generation' semiconductors gallium nitride (GaN) and silicon carbide (SiC), and the GaN power device market is expected to see the greatest growth. TrendForce forecasts that GaN power device revenue will rise 73% year-on-year in 2021 to $83m, then grow at a 78% CAGR to $850m in 2025.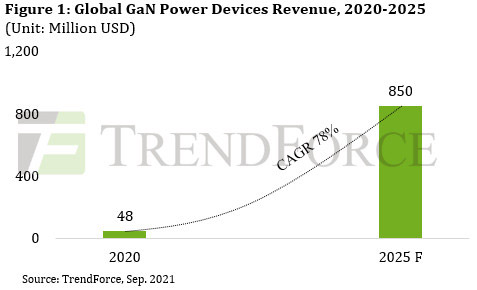 Regarding applications, consumer electronics, NEVs and telecoms/data centers, in order, comprise the three largest sources of GaN power device consumption, at 60%, 20% and 15%, respectively. TrendForce finds that about 10 smartphone OEMs have released more than 18 models of smartphones equipped with fast-charging capability, while notebook manufacturers are also indicating a willingness to adopt fast charging for notebook computers.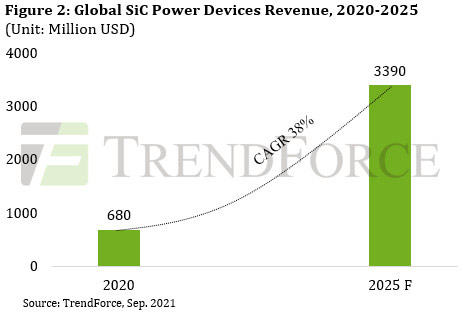 Annual silicon carbide revenue is expected to grow at a 38% CAGR to $3.39bn in 2025, with NEVs, solar power generation/storage, and charging stations representing the three largest sources of SiC power device consumption, at 61%, 13% and 9%, respectively. For the NEV industry, in particular, SiC power devices are most widely used in powertrain inverters, on-board chargers (OBCs) and DC-DC converters.
Major IDMs from Europe, USA and Japan still control vast majority of substrate supply
Due to their relative difficulty in epitaxial growth and the fact that the industry is moving from 6-inch towards 8-inch substrates as the mainstream, GaN and SiC substrates are 5-20 times more expensive to manufacture compared with traditional 8-inch and 12-inch silicon substrates, notes TrendForce. Supplies of most substrate materials are currently controlled by such major IDMs as US-based Cree and II-VI, Japan-based Rohm, and Europe-based STMicroelectronics. In response to this oligopoly, certain Chinese suppliers, including SICC and Tankeblue, have successively entered the substrate market with the support of China's 14th five-year plan. Their participation will likely accelerate China's goal of semiconductor self-sufficiency, believes TrendForce.
Although substrate suppliers in Europe, the USA and Japan enjoy an early presence in the market and possess relatively mature process technologies, TrendForce believes that Taiwanese suppliers still hold certain competitive advantages. For example, not only do Taiwanese companies have vast experience in silicon development, but Taiwan is also home to a comprehensive upstream/downstream silicon supply chain.
In addition to these advantages, Taiwan is further aided by policies that promote domestic material supply, design and technical development.
Taiwan is therefore well on its way to achieving its goal of becoming a center of advanced semiconductor fabrication that derives its strength from a gradually maturing front-end substrate and epitaxy industry chain, as well as mid- and back-end competencies in chip design, manufacturing and packaging, believes TrendForce. Currently, two major strategic alliances, led by Hermes-Epitek (with subsidiaries EPI and EPISIL), and SAS (with subsidiaries GW, AWSC, CWT, and ATC) are attempting to maximize their efforts in Taiwan's lagging substrate industry. Furthermore, jointly funded by KENMEC and TAINERGY, TAISIC has submitted 4-inch SiC substrates for qualification and is actively investing in 6-inch SiC substrate R&D, adds TrendForce.
GaN power device market to grow 90.6% to $61m in 2021
Tags: GaN RF SiC Power electronics
Visit: www.trendforce.com