News: Suppliers
11 November 2021
Aixtron's revenue almost doubles in Q3/2021
For third-quarter 2021, deposition equipment maker Aixtron SE of Herzogenrath, near Aachen, Germany has reported revenue of €130.8m. This is up 93% on €67.7m in Q2/2021 and more than doubling from €64.1m a year ago due to the high number of systems delivered.
Revenue for the first three quarters of the year was up by 54% from €161.1m in 2020 to €248.1m in 2021 (with 82% coming from equipment sales and 18% from after-sales service & spare parts).
Growth is being driven by applications including the manufacture of gallium nitride (GaN) power electronics and wireless and optical data transmission devices as well as of red LEDs.
On a regional basis, 67% of revenue in the first three quarters of 2021 came from Asia (down from 78% a year previously) and 23% came from Europe (up from just 13%), with the Americas level at 10%.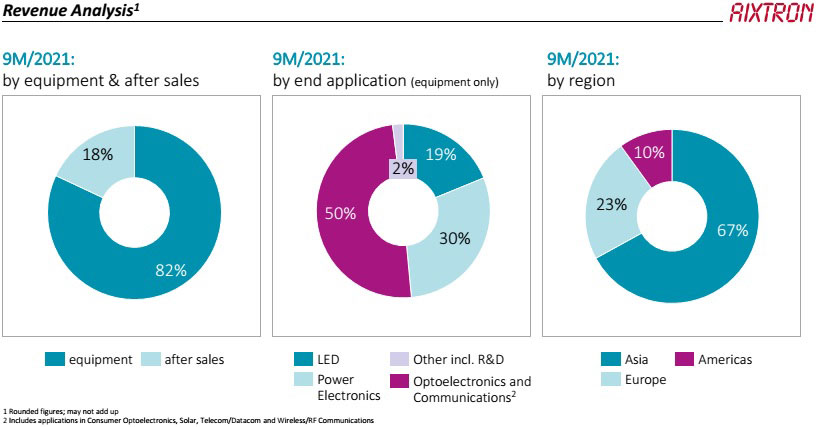 Quarterly gross margin improved further, from 40% a year ago and 41% in Q2/2021 to 43% in Q3/2021, due mainly to a higher share of products shipped with better margins.
Operating expenses in the first three quarters of the year rose from €52.9m for 2020 to €60.3m for 2021, due mainly to two particular effects. In first-half 2021, Aixtron incurred restructuring costs of about €3m for its South Korea-based organic light-emitting diode (OLED)-focused subsidiary APEVA (compared with the prior year, when a change of use for a production facility led to other operating income of €3m). Furthermore, the firm incurred higher variable compensation and R&D spending primarily for the development of its next-generation metal-organic chemical vapor deposition (MOCVD) tools.
EBIT quadruples year-on-year in first nine months
Nevertheless, as a result of the increase in gross margin, in the first nine months of the year the operating result (EBIT, earnings before interest and taxes) nearly quadrupled, from €10.3m (6% margin) for 2020 to €41.1m (17% margin) for 2021. Specifically, EBIT was €36.2m (28% margin) in Q3, up from €5.6m (8% margin) in Q2. Net income was €31.4m in Q3, up significantly from Q2's €7.7m.
Inventory boosted for planned deliveries in Q4  
In line with the expected output for planned deliveries in fourth-quarter 2021, inventories have been boosted to €137.3m at the end of Q3/2021 (from just €79.1m at the end of 2020). During Q3/2021, working capital fell from +€13m to -€46.8m. Operating cash flow has hence fallen from +€20.8m in Q2 to -€12.2m in Q3.
Also, capital expenditure (CapEx) was raised from €2.8m in Q2 to €6.8m in Q3 (largely investments in next-generation MOCVD tools for Aixtron's laboratories). Free cash flow in Q3 was hence -€19m (compared with +€18m last quarter and +€5m a year ago).
Despite this (and the €12m dividend payment in May), Aixtron's cash balance of €330.7m at the end of Q3/2021 was still up on €309.7m at the end of 2020, due mainly to advance payments received from customers rising from €51m to €86m.
Order intake highest since 2012
Order momentum remained high in Q3/2021, at €114.2m (and up on €70.8m a year previously). Consequently, order intake in the first nine months reached its highest level since 2012, growing by 80% from €209.3m for 2020 to €377.6m for 2021. Demand is coming particularly for gallium nitride (GaN) and silicon carbide (SiC) power electronics applications, wireless and optical data communications as well as LED applications for fine-pitch displays and indoor farming.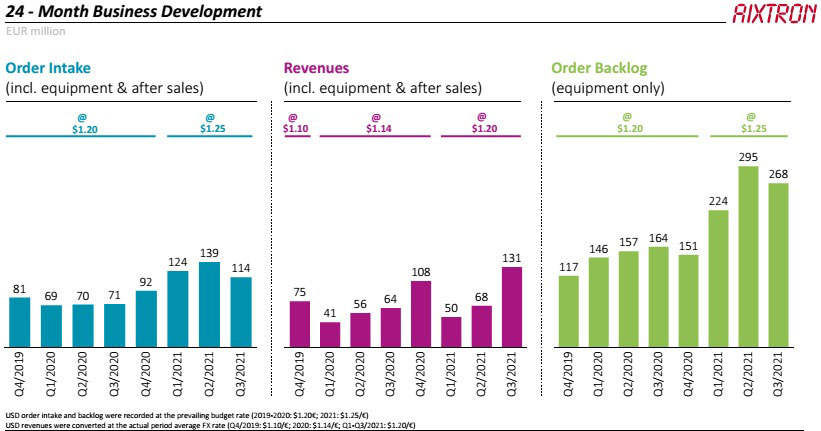 Equipment order backlog fell slightly by 9% during Q3/2021, from €295m to €267.7m, due to the large volume of deliveries, but this is still up 63% on €164.1m a year previously.
"Megatrends such as digitalization and data communication, energy efficiency and e-mobility are driving demand for compound semiconductors," notes CEO & president Dr Felix Grawert. "Their outstanding properties are the basis for applications not only in optoelectronics but increasingly also in power electronics," he adds. "As a result, we expect revenues in the current fourth quarter of 2021 to increase even further compared to the already strong previous quarters."
Aixtron confirms 2021 guidance
After already raising its guidance for full-year 2021 order intake first (on 9 June) from €340-380m to €420-460m then again (in late July) to €440-480m, Aixtron has reiterated this guidance.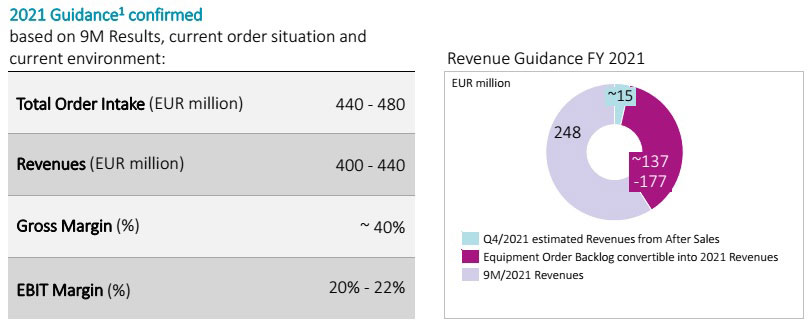 Based on the equipment order backlog (convertible into 2021 revenue) of €137-177m plus €15m of after-sales spares & services revenue, together with the €248m of revenue from Q1-Q3/2021, Aixtron has also confirmed its guidance for full-year revenue of €400-440m (previously raised on 9 June from prior guidance of €320-360m). The firm still expects gross margin of 40%, and EBIT margin of 20-22% of revenue (raised on 9 June from prior guidance of 18%).
Aixtron doubles EBIT in first-half 2021 as revenue grows 21% year-on-year
Aixtron raises guidance for full-year order intake, revenue and EBIT margin
Aixtron's Q1 revenue up 21% year-on-year, driven by optoelectronics
Aixtron's growth accelerates in Q4
Aixtron's Q3 up 21.9% year-on-year
Visit: www.aixtron.com