15 December 2014
USC professor Dapkus wins John Tyndall Award for contributions to MOCVD and QW lasers
The Optical Society (OSA) and the IEEE Photonics Society have named Paul Daniel Dapkus, the W. M. Keck Distinguished Professor of Engineering at the University of Southern California (USC), as recipient of the 2015 John Tyndall Award for his "pioneering and sustained contributions to the development of metal-organic chemical vapor deposition [MOCVD] and high-performance quantum well semiconductor lasers".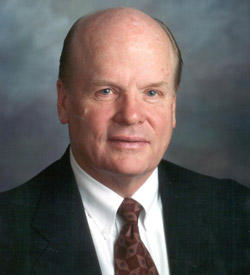 Picture: University of Southern California professor Paul Daniel Dapkus.
Dapkus is currently a faculty member of the Ming Hsieh Department of Electrical Engineering, the Mork Family Department of Chemical Engineering and Materials Science, and the Department of Physics and Astronomy at USC. He also is the director of a US Department of Energy (DoE) Energy Frontier Research Center. Prior to USC, Dapkus received his B.S., M.S. and Ph.D. degrees in Physics at the University of Illinois at Urbana-Champaign (UIUC). He later led the group at Rockwell International that demonstrated the device utility of MOCVD, and he served as a member of the technical staff at Bell Laboratories. "Dan Dapkus developed an efficient deposition process that produced high-quality film, which is now widely used," says OSA's CEO Liz Rogan.
Dapkus' current research involves the study of semiconductor nanostructures for application to energy devices, photonic materials and devices, semiconductor microresonators and optoelectronic integration.
Previously, Dapkus was named an IEEE LEOS Distinguished Lecturer, awarded an IEEE LEOS Engineering Achievement Award (1995), given the IEEE David Sarnoff Technical Field Award in electronics (2001), named winner of The Optical Society's Nick Holonyak Jr Award (2005), given the Heinrich Welker Award of ISCS (2009) and awarded the USC Associates Award for Creativity in Research (2009). He is currently a member of the National Academy of Engineering (2004) and a Fellow of IEEE, OSA, APS and AAAS.
Co-sponsored by OSA and the IEEE Photonics Society, the John Tyndall Award is named for the 19th century scientist who was the first to demonstrate the phenomenon of internal reflection. First presented in 1987, the award recognizes an individual who has made pioneering, highly significant, or continuing technical or leadership contributions to fiber-optics technology. Corning Inc endows the award, which is a glass sculpture that represents the concept of total internal reflection.
Visit: www.osa.org/en-us/awards_and_grants/awards/award_description/johntyndall
Visit: http://photonicssociety.org/award-info
Visit: http://ee.usc.edu/faculty_staff/faculty_directory/dapkus.htm