16 April 2013
Philips claims first 200lm/W LED lamp with high-quality light
Royal Philips Electronics of Eindhoven, The Netherlands claims that it has created the world's most energy-efficient LED lamp for general lighting applications.
Philips researchers have developed a prototype 'TLED' lamp – designed as a replacement for fluorescent tube lighting (TL) in office and industry applications (which account for over half of all lighting) - that produces a record 200 lumens per watt (lm/W) of high-quality warm-white light (compared with 100lm/W for fluorescent lighting and just 15lm/W for traditional incandescent light bulbs). With lighting accounting for more than 19% of the world's electricity consumption, Philips reckons this could drive massive energy and cost savings.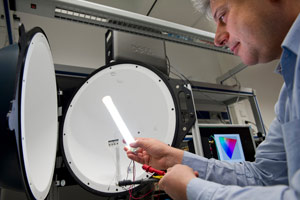 Picture: Rifat Hikmet of Philips Research with the first prototype TLED and an integrating sphere.
The firm says that, to break the 200lm/W barrier, the challenge is to achieve higher efficiency at the lamp/system level (demonstrated in an end-product prototype under real-world, normal conditions and ready to be incorporated into actual products). Until now, similar efficiencies have been achieved in a cool and controlled lab setting or at the component level, but when placing the LED in a lamp it could lose up to 50% of its efficiency, says Philips.
Also, to be suitable for real-world applications, the light produced by LEDs must fall within certain technical parameters. If it is too cool or too warm in color, or lacks a sufficient quantity of red, it will interfere with the way the human eye perceives color, and will give objects an unnatural tint. Yellow/green-emitting LEDs obtained by phosphor conversion, for example, are extremely energy efficient (providing more than 380lm/W), but practically useless for general lighting purposes, the firm reckons.
There are currently two ways to make white light with LEDs: (1) mixing multiple wavelengths of different LEDs to make white light (i.e. RGB), allowing lighting designers to tune the white light to a specific color temperature; or (2) using a blue indium gallium nitride (InGaN) LED with a phosphor coating to create white light, resulting in the more commonly seen 'white LED'.
Philips says that it is using a new approach, combining blue, green and red LEDs to create high-quality white light. Inside the tube, red, green and blue LEDs consuming just 7.5W emit as much as a 100W incandescent bulb (about 1500lm). The red LED – presumably made from aluminium indium gallium phosphide (AlInGaP) - and the blue LED (InGaN) are both native (direct) emitters, while the green is made from an InGaN blue LED coated with a green-emitting phosphor (rather than from an InGaN die with the In/Ga ratio tuned to emit green directly). The InGaN die are made by Philips' LED making subsidiary Lumileds of San Jose, CA, USA. For the TLED, Lumileds has boosted the luminous efficiency of its InGaN LED compared with the earlier generation that was at the heart of Philips' 10W A-lamp LED bulb (which won the US Department of Energy's L Prize for 60W-replacement bulbs in 2011).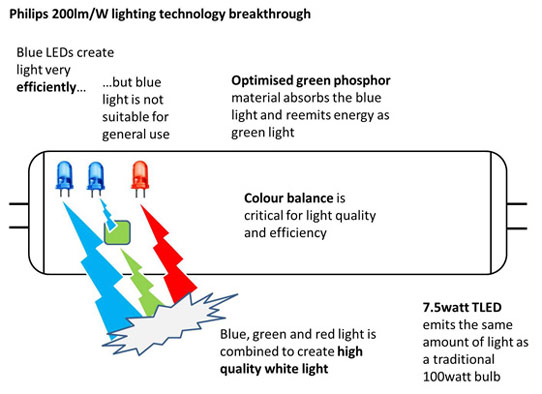 Philips reckons that its TLED prototype lamp marks the first time that lighting engineers have been able to reach 200lm/W efficiency without compromising light quality, with all parameters required to meet the stringent requirements for office lighting. The firm notes that comfortable, workable general lighting requires a correlated color temperature (CCT) of 3000–4000K, a color rendering index (CRI) of at least 80, and an R9 saturated red level of no less than 20. The specification of the TLED prototype is 200lm/W without reducing the CRI (>80) while staying on the black-body line; the CCT is 3000-4500K and R9>20, says the firm.
Until now, the relatively high efficiency of fluorescent lighting (100lm/W) has seen it dominate in office and industrial environments. Conversion to the twice-as-efficient 200lm/W TLED lamps could halve energy consumption for lighting, making significant cost savings, the firm reckons. In the USA alone, for example, fluorescent lights consume about 200 terawatt-hours (TWh) annually. If these lights were all replaced with 200lm/W TLEDs, the USA would use about 100TWh less energy (equivalent to 50 medium-sized power plants), saving more than $12bn and preventing about 60 million metric tons of CO2 from being released into the atmosphere, it is reckoned.
The new LEDs also generate less heat, and can hence be made without heat sinks. They are therefore less bulky, give greater design freedom, use less material and can be produced more cheaply, reckons Philips.
The 200lm/W TLED lamp is expected to hit the market in 2015 for office and industry applications. However, Philips reckons the TLED lamp will ultimately being used in the home. Homes and shops have tended to stick with the gentler, warmer light produced by conventional incandescent bulbs (operating at about 15lm/W) or halogen lights (25lm/W), but the firm reckons that the greater efficiency of its 200lm/W LED, combined with its light quality, can finally overcome this.
Tags: Lumileds
Visit: www.philipslumileds.com