30 April 2012
Aixtron's revenue falls 70% in Q1 as Asia slumps from 92% to 76% of sales
For first-quarter 2012, deposition equipment maker Aixtron SE of Herzogenrath, Germany reported revenue of €42m, down 80% on €205.4m a year ago and 70% on €140.1m in Q4/2011 (and less than half of the previous trough of €89.8m in Q3/2011). This was in line with expectations following the considerable reduction in order intake in second-half 2011, specifically for metal-organic chemical vapour deposition (MOCVD) systems for LED applications.
| | | | | | |
| --- | --- | --- | --- | --- | --- |
| Fiscal | | | | | Q1/2012 |
| Quarterly Revenue | €205.4m | €175.6m | €89.8m | €140.1m | €42m |
In particular, equipment sales were €29.3m (just 70% of total revenue), down 70% on last quarter's €128.1m (91% of total revenue) and down 93% on €190.5m a year ago (93% of total revenue). By comparison, other revenues (service, spare parts etc) of €12.7m were actually up 9% on €12.1m last quarter.
By region, just 76% came from Asia (down from 92% last quarter), while 8% came from Europe (up from 4%) and 16% from the USA (up from just 4%).
Compared with 51% a year ago, gross margin was 25%, but this represents a rebound from just 8% last quarter.
As forecast, compared with an operating profit of €74.9m a year ago, the earnings before interest and taxes (EBIT) operating result has worsened from a loss of €16.9m last quarter to €18.3m, reflecting the current trough in market demand. Compared with a net profit of €52.3m a year ago, net loss has worsened from €10.9m to €12.3m.
Capital expenditure was €6.2m (cut from €8.8m last quarter). Hence, free cash flow was negative €5.6m. This compares with +€11.7m a year ago, but represents a rebound from negative €27.6m last quarter. During the quarter, cash and cash equivalents (including cash deposits) fell from €295.2m to €288.9m.
Aixtron says that, heavily influenced by fragile consumer confidence, credit tightness, reduced subsidies and ongoing customer overcapacity (with reluctance to invest in the current economic climate, especially in the large Asian markets), its order intake visibility remains limited. However, although down 85% on €210.3m a year ago, equipment order intake of €31.5m is up 8% on last quarter's €29.3m, suggesting that current order levels may represent the trough of the current cycle. Order backlog of €136.2m is down just 3% on €141m last quarter.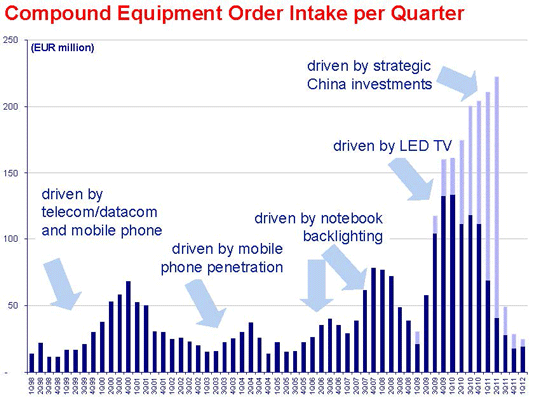 Given the maturity of the LED backlighting investment cycle and despite recent improvements in capacity utilization, Aixtron says that it does not expect further significant investments in LED backlighting capacity during 2012. Based on business and market development during Q1/2012, the firm still believes that 2012 will be a transitional year with lower revenues and potential customer consolidation. However, it retains its more positive outlook for second-half 2012. Specifically, it remains confident that an increase in equipment investments for LEDs in general lighting applications will materialize during the next 12 months.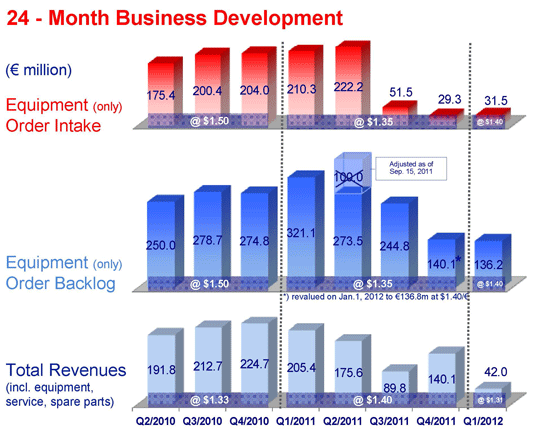 "Times are undoubtedly very tough – but we remain convinced that we have built a strong and resilient foundation to our business, designed to protect the firm in the difficult climate that the whole industry is currently operating in," says president & CEO Paul Hyland. "Furthermore, we have significantly enhanced our existing product portfolio over the last 18 months, so that we are confident of being highly competitive in the event of a sudden upturn of demand in the market," he adds. Despite the current market conditions, Aixtron continues to be convinced that the development of a sustainable LED lighting industry will follow this uncertain transitory period.
Set against this difficult environment, the firm remains focused on delivering further improvements to existing products and services and on accelerating specific strategic R&D investments focused on developing new products for future market opportunities. "Despite the very volatile current economic environment, we have more than just sustained our MOCVD R&D efforts - we have accelerated our investments into both next-generation MOCVD products and other 'Beyond LED' products that we believe are necessary to support our longer-term ambitions," says Hyland.
Correspondingly, Aixtron has continued to increase both R&D staffing (from 252 a year ago and 316 last quarter to 325, or a third of total staffing) and R&D expenses (up 32% on €12.4m a year ago and 12% on €14.6m last quarter to €16.4m, rising from 6% of revenue then 10% to 39%). Meanwhile, selling expenses have reduced from €7.1m last quarter to €6.6m (due mainly to lower sales commissions and warranty expenses), while general & administrative (G&A) expenses have been cut from €9.1m to just €5.8m. So, overall operating costs have remained the same, at €28.6m (although this has climbed from just 20% of revenue to 68%).
Aixtron notes that order intake visibility has not yet improved to the point where it can predict full-year revenue. Nevertheless, it still targets staying EBIT profitable for full-year 2012 under the current circumstances, assuming revenue of €275m (compared with 2011's €611m), gross margin of 40% (up from 38%), and operating expenditure of €110m. So, in addition to Q1/2012 revenue of €42m, order backlog of €136m and assumed Q2-Q4 spares & non-equipment revenues of €30m, shippable equipment orders of €67m are still required.
To achieve EBIT break-even, the firm says it will continue to utilize the advantages of its flexible business model and continuously review and implement cost saving measures in the short term.
On a more positive note, there continues to be solid evidence of emerging new LED lighting product developments, increasingly proactive government engagements, and clear company positioning investments, the firm concludes.
See related items:
Aixtron reports loss in Q4 on revenue down 38% year-on-year
Aixtron's Q3 revenue down nearly 50% due to Asian market correction and credit tightness
Aixtron's revenue and margins dip in Q2 after China customer delays
Aixtron's revenue drops 9% in Q1
Aixtron's revenue grows more than 2.5-fold in 2010
Visit: www.aixtron.com