1 March 2011
Aixtron's revenue grows more than 2.5-fold in 2010
Deposition equipment maker Aixtron SE of Aachen-Herzogenrath, Germany says that in 2010 it delivered, for the third year in succession, the best operational performance in its history, with revenue of €783.8m (more than $1bn) and EBIT (earnings before interest and taxes) margin 35%.
| | | | | | |
| --- | --- | --- | --- | --- | --- |
| Fiscal | | | | | |
| Revenue | €117.9m | €154.5m | €191.8m | €212.7m | €224.7m |
The full-year revenue of €783.8m was higher than the previously guided €750m (and the original guidance of €600m), and over 2.5 times more than 2009's €302.9m (up 159%). By application, 93% of revenue was for LEDs and just 2% for telecoms/datacoms, 1% for silicon, and 4% for displays/other. By geographical region, 91% came from Asia (up from 82% in 2009), 5% from the USA (up from 4%) and just 4% from Europe (down from 14%). Notably, China grew significantly to 25% of total revenue, becoming the second largest region for the first time (after Taiwan).
In particular, fourth-quarter 2010 revenue was €224.7m, up 91% on €117.9m a year ago and up 5.6% on €212.7m in Q3/2010 (and a seventh consecutive quarter of growth).
"What we saw in 2010, was not only a continuation of the market-driven demand for LEDs for TV backlighting, but also an increased effect of government-sponsored demand and some early encouraging investments by customers beginning to position themselves for the emerging LED lighting market," comments president & CEO Paul Hyland.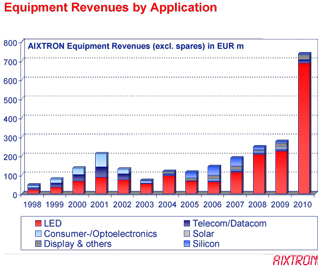 "The market we serve today has clearly been transformed from one small technical niche market into two significantly larger and sustainable mass markets; namely consumer electronics and utility lighting. In a very short period of time, the industry has found that essential 'critical mass'," he adds.
Gross margin was 52% in Q4/2010, level with Q3's 52% and up on 47% a year ago. This took full-year gross margin from 44% in 2009 to 53% for 2010.
The operating result (EBIT) was €86m in Q4/2010, up on €82.6m in Q3 and €33.7m a year ago. Full-year EBIT is up from €62.7m in 2009 to €275.5m in 2010, corresponding to EBIT margin rising from 21% in 2009 to 35% in 2010 (up on the original guidance of just 25%).
Net income was €61.6m in Q4/2010, up on €56.8m in Q3 and €24.4m a year ago. Full-year net income has risen from 2009's €44.8m to €192.5m. Free cash flow was €95.9m in 2010 (up from €75.8m in 2009), boosting cash & cash equivalents plus cash deposits from €301.2m to €384.7m.
Equipment order intake rose significantly in 2010, doubling from €370.1m in 2009 to €748.3m for 2010. It grew steadily quarter-by-quarter to €204m in Q4, up slightly on €200.4m in Q3 and up 25% on €163.3m a year ago. Of Q4's orders, latest-generation systems comprised 55% (versus just 35% of Q4 revenue).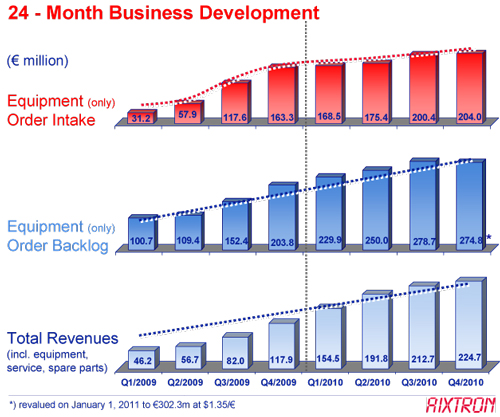 Although up 35% on €203.8m a year ago, total equipment order backlog has fallen slightly from €278.7m at the end of Q3/2010 to €274.8m at the end of 2010. However, this has since been revalued (at US$1.35/€, rather than the US$1.50/€ set at the beginning of the year) to €302.3m (all shippable in 2011). Management believes that, with this foundation, in 2011 Aixtron can deliver revenue of €800–900m and an EBIT margin of about 35%.
"The foundation of our success in the past has been our commitment to innovative R&D and focused market-led engineering, and these are exactly the same qualities that are required to compete in the bigger and more dynamic markets we will be serving in the future," notes Hyland. "The substantial R&D investments we are making today [€46.1m in 2010, up 40% from €32.9m in 2009 and just €3.5m in 1998] are a reflection of our commitment to deliver increasingly customer-focused solutions for that future."
In October, Aixtron completed and moved into the first building phase of its new R&D center in Herzogenrath (accommodating the first 250 staff out of space for 300). Phase 2 (including new application laboratories and a prototype production facility for 150 further staff) is currently being built and should be finished by early 2012. Total investment in the first two phases (totaling 16,000m2) should be €40m.
During 2010, total staffing increased from 687 to 784, while Aixtron ramped up its quarterly manufacturing output by 50%, from about 100 systems to 150 systems.
*The Executive Board and Supervisory Board intends to propose to Aixtron's Annual Shareholders' Meeting in May to pay a dividend of €0.60 per share (four times the dividend figure paid out in 2010). This would result in a dividend payout of €60.7m to shareholders and a pay-out ratio of 31.5% based on the group net income.
Aixtron reports revenue up 11% in Q3 to record €212.7m
Aixtron grows 31% in Q1; orders up fivefold year-on-year
Aixtron reports 2009 revenue up 10% to a record €302.9m
Visit: www.aixtron.com
Join Semiconductor Today's LinkedIn networking and discussion group