14 April 2011
QD Laser commercializes stable, single-mode 1064nm DFB laser module
QD Laser Inc, which was founded in 2006 based on more than 10 years of research on quantum-dot-based optoelectronic devicesby Fujitsu Laboratories Ltd and the University of Tokyo, has announced the commercial release of the QLD1061, a single-mode distributed feedback (DFB) laser module emitting at a wavelength of 1064nm.
The firm says that semiconductor lasers emitting in the near-infrared (NIR) wavelength band around 1064nm have recently attracted much attention for many applications including fiber lasers for material processing, LIDAR, frequency conversion for generating exotic wavelengths, gas sensing etc. To expand the application area, single-mode lasers with stable operation have been needed.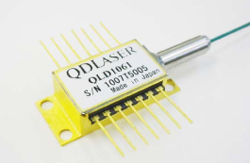 QD Laser says that the QLD1061 offers strong fiber output power (>30mW) and narrow spectral linewidth (<10MHz) with stable single-mode oscillation. The DFB laser chip is packaged in a standard 14-pin butterfly laser module with an optical isolator. The module has an output pigtail using a polarization-maintaining fiber.
The design of the laser chip is based on DFB laser technology normally used in telecom applications, where quite high wavelength stability is required. Reliable packaging, including a built-in optical isolator, also contributes to the stability. In continuous-wave (CW) operation, the QLD1061 provides high side-mode suppression ratio (SMSR), even when changing the output power over a wide range of operating temperatures. In pulsed operation, a stable, short pulse train between 50ps and 100ns is generated with low amplitude noise and low timing jitter maintaining high SMSR. These characteristics (claimed to be unique) differentiate the QLD1061 from conventional wavelength-stabilized lasers such as a fiber-grating-based external-cavity lasers.
QD Laser says that it has already received a lot of positive responses from evaluations of prototypes by global companies. The firm adds that the QLD1061 suits a variety of applications in CW or pulsed operation (e.g. an injection seeder of a fiber laser and a wavelength sweeper for sensing), and that it can contribute to an improvement in performance and market expansion of many systems using NIR-wavelength-range semiconductor lasers.
QD Laser is exhibiting the QLD1061 at the following events:
Photonix Japan 2011 (13–15 April) in Tokyo, Japan (Hikari Inc, booth # 42-34);
LaserEXPO (20–22 April) in Yokohama, Japan (booth # M-22); and
LASER World of PHOTONICS (23–26 May) in Munich, Germany (booth # B1-310).
Tags: QD Laser DFB laser module
Join Semiconductor Today's LinkedIn networking and discussion group