31 May 2019
Klaran launches 60mW UVC LED and reactor prototype for water disinfection
Crystal IS Inc of Green Island, NY, USA, an Asahi Kasei company that makes proprietary ultraviolet light-emitting diodes (UVC LEDs), says that its Klaran product line has gained a new 60mW UVC LED in its water disinfection (WD) series.
In an advanced prototype reactor, the 60mW LED has demonstrated effective and affordable water treatment at flow rates up to three liters per minute, with disinfection rates comparable to NSF/ANSI 55 Class 'A', says the firm. Klaran's existing WD series LEDs and water treatment reactors are used to treat point-of-use (PoU) water at flow rates up to two liters per minute and at disinfection rates comparable with NSF/ANSI Class 'B'.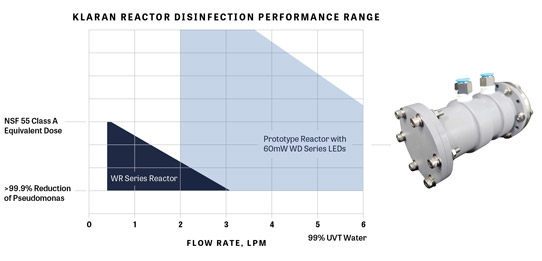 The new reactor, which is expected to be ready for market in early 2020, incorporates a user-replaceable LED 'engine' to address both the different market performance requirements and alternate business revenue models of the commercial water industry. Similar to Klaran's other WD series devices, the new LED is priced at under 25 cents per mW. "The introduction of our new 60mW LED marks another milestone in proving that UVC LEDs can affordably deliver the performance needs of the commercial and consumer point-of-use markets," says Eoin Connolly, VP for Klaran.
Klaran's expanding portfolio of products enable manufacturers and distributors of point-of-use water products to reduce their total cost of ownership by addressing maintenance issues, such as annual replacement and unplanned service, related to traditional UVC technologies, says the firm. "An unplanned UV lamp failure can quickly cost hundreds of dollars to a service provider, making a serious impact on profit margins," notes Connolly. "Our rigorous testing of thousands of Klaran devices and ISO 9001 quality system provide the data-driven proof in the reliability and performance of our Klaran products," he adds.
Tags: Crystal IS UVC LEDs
Visit: www.cisuvc.com/products/klaran