20 May 2019
MMIC market growing at 10.6% CAGR from $7.7bn to $12.7bn by 2024
The monolithic microwave integrated circuit (MMIC) market will grow at a compound annual growth rate (CAGR) of 10.6% from $7.7bn in 2019 to $12.7bn by 2024, according to a report from Global Information Inc. Factors driving growth include: increased demand from the smartphone industry; increasing adoption of E-band frequencies to meet the growing bandwidth requirements of the space, defense and wireless communication infrastructure sectors; and rising defense spending of countries globally.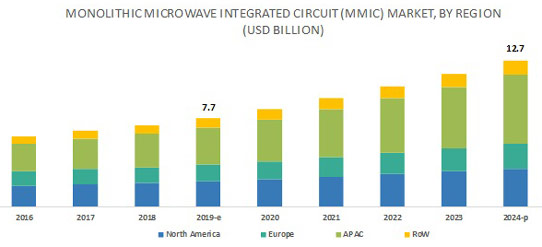 Power amplifier segment to hold largest market share
Most power amplifiers are designed for a specific application producing a specific type of signal, signal modulation scheme, and a set of specifications such as frequency range, gain (dB), gain flatness (dB), supply voltage (VDC), power decibels (dB-milliwatt), and package type.
MMICs developed using GaN offer high input power survivability of 40dBm, potentially eliminating the requirement for a power limiter in broadband communication, electronic warfare (EW) instrumentation or radar applications.
Growth of this segment can be attributed to the increased use of power amplifiers in defense, automotive, smartphone and wireless communication applications, driven by the continuously growing demand for high data transfer rates in communication systems.
GaN material segment to grow at highest CAGR
As well as its high-brightness emission in optoelectronics, gallium nitride (GaN) is an emerging alternative to silicon due to its high power efficiency, superior high-frequency handling capacity and its flexibility to be used with various substrates such as silicon, sapphire and silicon carbide (SiC). Since it is a hard and mechanically stable material with a wide bandgap and high heat capacity and thermal conductivity, MMICs developed using GaN offer large bandwidth, improved power density and high efficiency to support the future cellular infrastructure such as 5G for the mobile base-station transmitters.
E-pHEMT device segment to grow fastest
Enhancement-mode pseudomorphic high-electron-mobility transistors (E-pHEMTs) offer superior output power and high efficiency with bias voltages of less than +3VDC. For commercial communication systems, E-pHEMTs offer a combination of high gain, low noise and wide dynamic range in high-linearity MMIC applications. These transistors can economically provide superior electrical performance in very high frequency (VHF) and ultra high frequency (UHF) wireless communication bands commonly associated with technologies such as gallium arsenide (GaAs) MESFETs and depletion-mode pHEMTs.
Asia Pacific to be largest market by region
Asia Pacific was the largest MMIC market by geographic region in 2018. The main growth drivers are the expanding cellular infrastructure in the region and the increasing number of telecom equipment shipments in countries such as China and India. Japan has been a dominant player in the global semiconductor industry since the 1960s, while the strategy of China is to develop the highest-performance products at the lowest cost, which has helped it gain a large share of the Asia Pacific MMIC market. The increased production of electronic devices in the region due to the low manufacturing cost and availability of cheap labor is another growth driver. Rising demand for smartphones, digital televisions, automobile electronics, and electro-medical devices in the Asia Pacific region is expected to contribute to growth of the MMIC market in the region.
Key players in the MMIC market are cited as Analog Devices (USA), NXP Semiconductor (Netherlands), MACOM (USA), Qorvo (USA), Skyworks Solutions (USA), Broadcom (USA), Infineon Technologies (Germany), Maxim Integrated (USA), Mini-Circuits (USA), OMMIC (France), WIN Semiconductors (Taiwan), United Monolithic Semiconductors (UMS) (France), Custom MMIC Design Services (USA), Microarray Technologies (China), VectraWave (France), BeRex (South Korea), and Arralis (Ireland).
Tags: MMIC
Visit: www.giiresearch.com/report/mama833816-monolithic-microwave