6 May 2019
Aixtron's Q1 gross margin and earnings exceed expectations
For first-quarter 2019, deposition equipment maker Aixtron SE of Herzogenrath, near Aachen, Germany has reported revenue of €68.7m, down 22% on €87.9m last quarter but up 10% on €62.4m a year ago. "Business development in the first quarter of 2019 was in line with our expectations," says president Dr Bernd Schulte.
Specifically, equipment revenue was €56.1m, up 10% on €50.8m a year ago (rising 81% to 82% of total revenue). Meanwhile, revenue from spare parts & services has grown by 0.9% from €11.6m a year ago to €12.5m.
Of equipment revenue, metal-organic chemical vapor deposition (MOCVD) systems for manufacturing Optoelectronic components (consumer optoelectronics, telecom/datacom and solar) declined from 70% a year ago to 30%, as expected, while systems for manufacturing Power Electronics components fell from 11% to 9%. In contrast, lower-margin MOCVD systems for producing LEDs have risen from a low of just 14% a year ago to 56% of total revenue.
Correspondingly, on a regional basis, Asia has risen from 46% of revenue a year ago to 83% (almost doubling from €29m to €56.7m), while Europe has dropped from 38% to 8% (falling by 77% from €23.5m to €5.4m) and the USA from 16% to 9% (falling by 34% from €9.9m to €6.5m).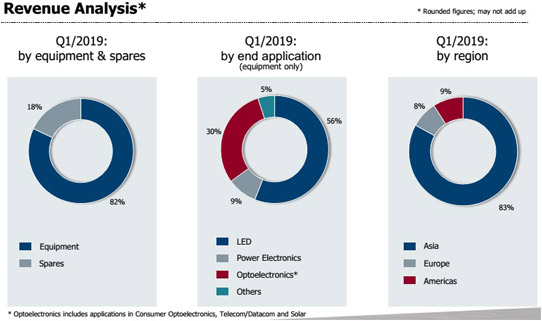 Reflecting the higher share of lower-margin LED systems in the product mix, cost of sales rose from €35.6m (57% of revenue) in Q1/2018 to €42m (61% of revenue) in Q1/2019.
Gross margin hence fell to 39%, but only slightly from 43% a year ago aided by the advantageous US$/€ exchange rate and lower product costs.
Operating expenses have been cut further, by 10% from €18.9m a year ago to €17m, due mainly to lower project-related costs.
"Our continued productivity gains and lower costs, combined with a favorable US$/€ exchange rate, are positive factors supporting both our gross margin and our results," says Schulte.
Operating result (EBIT) was €9.7m (14% of revenue), up from €7.9m (13% of revenue) a year ago due to the revenue growth and cost cutting.
However, net profit has fallen, to €8.5m, from €12.3m a year ago (which had been boosted by the positive impact of deferred tax assets of €5m).
Due to inventories rising by €6.7m from €73.5m to €80.2m (mainly reflecting the expected level of sales in subsequent quarters plus the construction of prototypes and the procurement of items that could be affected by Brexit) and trade receivables falling by €5.3m from €40.1m to €34.8m (from 36 days to 28 days sales outstanding), operating cash flow was hence -€11.9m (an improvement from -€21.1m a year ago). 
After capital expenditure of €5.6m, free cash flow was hence -€17.5m (an improvement on -€22.3m a year ago).
During the quarter, cash including other financial assets (bank deposits with a maturity of at least three months) fell by €15.8m from €263.7m to €247.9m.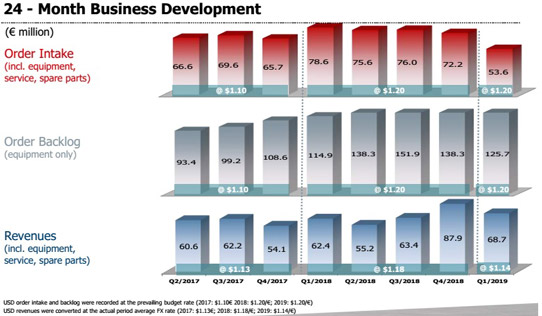 Order intake (including spare parts and service) was €53.6m, down 26% on €72.2m last quarter and 32% on €78.6m a year ago. "While in terms of revenues Q1/2019 was the strongest first quarter in many years, order intake reflects the current reluctance of our customers to invest in the expansion of [optoelectronics] production capacity," says Schulte.
Hence, despite being up 9% on €114.9m a year ago, equipment order backlog has fallen by 9% from €138.3m last quarter to €125.7m.
However, the prospects for the core optoelectronics and power electronics business are intact, reckons the firm. In particular, Aixtron continues to expect increasing demand for lasers due to increasing applications in 3D sensor technology, security infrastructure or optical data transmission as well as the increasing use of LEDs and specialty LEDs in displays and other applications. In addition, the firm expects an increased use of gallium nitride (GaN)- or silicon carbide (SiC)-based devices for energy-efficient communication and energy management in automobiles, consumer electronics and mobile devices.
"There has been no change in the medium- and long-term positive assessment of our core markets," believes president Dr Felix Grawert. "We remain firmly convinced that Aixtron will benefit from numerous forward-looking technology trends due to its product portfolio. As market and technology leader in optoelectronics, we are excellently positioned in laser and special LED applications as well as in power electronics, where we will be launching a new generation of systems this year," he adds.
Also during first-quarter 2019 Aixtron's subsidiary APEVA took a further step towards qualification of organic vapor phase deposition (OVPD) technology with the commissioning of the firm's Gen2 organic light-emitting diode (OLED) system on a customer pilot-production line. In the coming months, the facility is expected to deliver test results that will serve as the customer's decision basis, support its decision-making process, and further advance the development of the technology.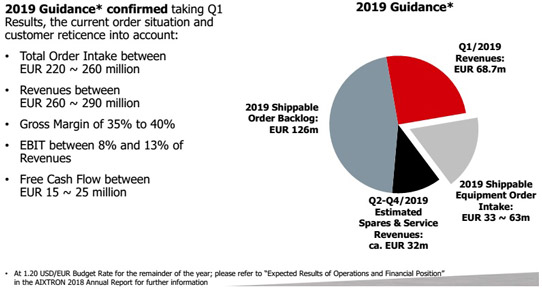 On the basis of the results for first-quarter 2019 and internal assessment of the development of demand, Aixtron maintains its forecast for full-year 2019 that it gave in February's annual report. Accordingly, compared with 2018, the firm expects stable to slightly growing sales development.
Based on the results in Q1/2019, the current assessment of the order situation and the budget exchange rate of US$1.20/€, Aixtron expects orders of €220-260m for full-year 2019 (down from €302.5m in 2018). This includes an expected order from the OLED customer for a large-scale test system as part of the ongoing qualification process for OVPD technology for the OLED display industry. With anticipated sales revenue of €260-290m (compared with €268.8m in 2018), Aixtron expects gross margin of 35-40% (down from 2018's 44%) and EBIT of 8-13% of revenue (down from 15%). Furthermore, the firm should generate free cash flow of €15-25m (up from 2018's €4.4m). Expectations for 2019 include the results of the APEVA subsidiary, including all necessary investments to continue OLED development activities.
Aixtron full-year revenue up 40% organically to €268.8m
Aixtron's revenue grows 15% in Q3, driven by power electronics, laser and ROY LED applications
Aixtron's orders rise 20% year-on-year in first-half 2018, driven by MOCVD systems for lasers and red-orange-yellow LEDs
Aixtron's orders grow 20% in Q1, driven by MOCVD systems for lasers in 3D sensing and datacoms
Visit:  www.aixtron.com