2 July 2019
pSemi announces new leadership structure
Murata company pSemi Corp of San Diego, CA, USA (formerly Peregrine Semiconductor Corp) – a fabless provider of radio-frequency integrated circuits (RFICs) based on silicon-on-insulator (SOI) – has announced a new leadership structure. As reported in February, Sumit Tomar officially assumed the role of CEO on 1 July. In addition, Go Maruyama will be promoted to senior VP of administration, and two directors will transition into vice president positions.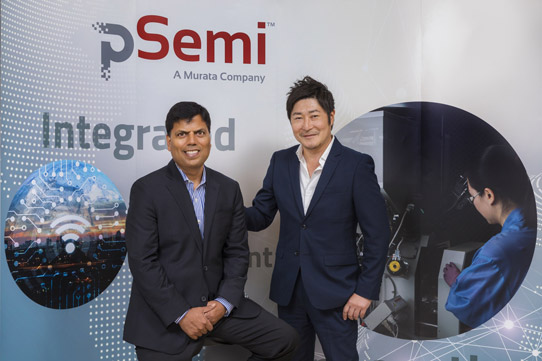 Picture: Sumit Tomar (left) and Go Maruyama (right) assume new leadership roles at pSemi, as CEO and senior VP of administration respectively.
Tomar has a track record of managing profit & loss, design-win strategy and revenue growth for wireless infrastructure, WLAN, industrial and automotive markets, says pSemi. He has driven strategic direction for numerous market-shaping products, including RF transceivers, RF synthesizers, power amplifiers (PAs) and RF multi-chip modules. Prior to joining pSemi, Tomar co-founded C-Ran Inc, where he designed and licensed a 5G RF system-solution prototype that solved issues of indoor coverage in 5G deployments. He has held high-level management positions at several prominent technology companies, including general manager at Qorvo, product line manager for High Speed Signal Path Solutions at Texas Instruments, and product line manager at Skyworks Solutions Inc. Tomar received a Master of Science in electrical engineering from Indian Institute of Technology (IIT), Roorkee and completed the Executive Management Program at Stanford University.
"Throughout Sumit's 20-plus year career, he has seamlessly brought numerous RF products to market, making him well-equipped to drive pSemi's growth trajectory," comments chairman Jim Cable. "We recently celebrated the shipment of our 5 billionth chip... Sumit will be able to maintain this momentum in his new leadership role," he believes.
As senior VP of administration, Go Maruyama will have six direct reports, including VP of legal, intellectual property (IP) and licensing, sales & business development, information technology (IT), and corporate planning & development. His experience includes a 20-year tenure with Murata and its subsidiaries. As the current VP of corporate planning, Maruyama is responsible for managing pSemi's corporate strategy, promoting post-merger integration of merger & acquisition activities and acting as a liaison between Murata's local and overseas affiliates. From 2013 to 2017, he served as a general manager of marketing and business development for Murata Investment Co in Shanghai, where he was responsible for creating new business in emerging markets, especially focusing on automotive, healthcare and energy. Prior positions at Murata Manufacturing Co include manager of corporate planning. Maruyama earned his MBA and master's degree in information technology from the Katz Graduate School of Business at the University of Pittsburgh and his bachelor's degree in economics from Keio University in Tokyo.
"Go offers deep experience leading teams at both pSemi and Murata," notes Cable. "The company has greatly benefitted from Go's leadership and collaboration skills."
The restructuring also includes the promotion of Mark Moffat to VP of power and Rodd Novak to VP of corporate planning & development. Moffat joined pSemi in 2012 as the UK office's director of power management, overseeing integrated circuit (IC) innovation, product design and strategic marketing for the power division. Novak returned to pSemi in 2017 as a managing consultant to oversee corporate planning. Both positions will report directly to the senior VP of administration.
Tags: Peregrine CMOS SOI Murata
Visit: www.psemi.com