2 July 2019
PowerAmerica names deputy director & CTO Victor Veliadis as executive director
The PowerAmerica institute – a member of Manufacturing USA – says that Dr Victor Veliadis has been named its executive director.
Under Veliadis' tenure as deputy director & chief technology officer, PowerAmerica has grown into a Manufacturing USA institute accelerating wide-bandgap power electronics commercialization and creating jobs in advanced technology. "We look forward to PowerAmerica's continued growth and success under Veliadis' leadership," says the institute.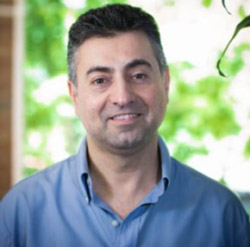 Picture: Dr Victor Veliadis, executive director & CTO of PowerAmerica.
PowerAmerica aims to save energy and create US manufacturing jobs by accelerating the development and large-scale adoption of wide-bandgap (WBG) semiconductor technology made with silicon carbide (SiC) and gallium nitride (GaN) in power electronics systems. Located at North Carolina State University (NCSU) in Raleigh, NC, the institute is funded by the US Department of Energy, industry partners and the state of North Carolina, and has a member portfolio representing more than 45 leading companies in the wide-bandgap semiconductor field.
As executive director & chief technology officer of PowerAmerica, Veliadis manages a budget in excess of $30m per year that he strategically allocates to over 35 industrial, university and National-Laboratory projects, to enable US leadership in WBG power electronics manufacturing, workforce development, job creation and energy savings.
Veliadis has given over 60 invited presentations/tutorials and keynotes at major conferences in India, Korea, China, Europe and the USA. He is an IEEE Fellow and an IEEE EDS Distinguished Lecturer. He has 25 issued US patents, six book chapters and 115 peer-reviewed technical publications to his credit. He is also professor in Electrical and Computer Engineering at NCSU. Veliadis received the Ph.D. degree from Johns Hopkins University in 1995 in Electrical and Computer Engineering.
Prior to taking an executive position at Power America in 2016, Veliadis spent 21 years in the semiconductor industry, where his work included design, fabrication and testing of 1-12kV SiC static induction transistors (SITs), JFETs, MOSFETs, thyristors, and unction-barrier Schottky (JBS) and PiN diodes, as well as operations and financial planning of a commercial foundry.
Tags: Power electronics