25 April 2019
DISCO constructing new building at Nagano Works Chino Plant
Tokyo-based equipment maker DISCO Corp - which makes semiconductor manufacturing equipment including chemical mechanical polishing (CMP) systems and laser-based ingot slicing equipment and processes for silicon carbide (SiC) – is investing about JPY17.5bn to construct a new 10-story building ('Building B') at its Nagano Works Chino Plant in Chino City.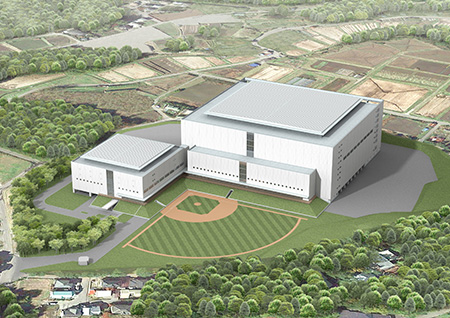 With the introduction of fifth-generation (5G) communication systems accelerating, the semiconductor and electrical components markets - including the development of the Internet of Things (IoT), self-driving systems and remote medical technology - are expected to grow. Demand for DISCO's precision processing equipment (for cutting, grinding and polishing silicon wafers etc) and tools (consumables) is also expected to increase accordingly. In response to the expected growth of these markets, DISCO is already expanding its Kuwabata Plant in Kure City, Hiroshima. However, it has been determined that further expansion of production capacity will be required.
In addition, most of the precision processing equipment and tools are currently produced in the Kure and Kuwabata Plants in Hiroshima. Seismically isolated structures have been adopted in the buildings at both plants, and construction to ensure an independent water source has been conducted to safeguard against future water outages. However, the distance between the two plants is only about 10km so, to prevent a situation where both plants cannot function should a disaster affect the entire area, resources need to be divided further, notes DISCO, hence the new building in Nagano.
Construction of the new seismically isolated Building B will begin in July and complete in December 2020, boosting the building area from the existing 4018m2 to 16,280m2 (and total floor space from 20,293m2 to 131,920m2) within a site area of 71,044.4m2.
Disco completes construction of new Zone C in Kuwabata Plant's A-Building
DISCO completes construction of new Kyushu building
Tags: SiC
Visit:  www.disco.co.jp