16 April 2019
Alta Devices solar cells powering ThinSats on Cygnus satellite launch
The NG-11 mission is launching on 17 April from the NASA Wallops Flight Facility carrying the Cygnus cargo spacecraft to deliver supplies to the International Space Station (ISS) and transport 60 small satellites (ThinSats) into space. These satellites are powered by gallium arsenide (GaAs) solar cells made by Alta Devices of Sunnyvale, CA, USA (a subsidiary of Hanergy Thin Film Power Group Ltd of Beijing, China) and will carry various electromagnetic, radiation and inertial sensors for scientific analysis of the atmosphere.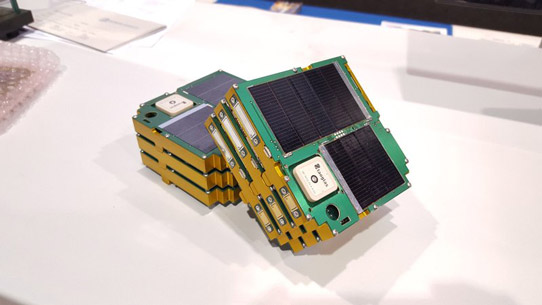 Picture: Alta Devices flexible GaAs solar cells power the ThinSat design.
The ThinSats are part of a program whose goal is to set a new standard for STEAM (science, technology, engineering, the arts and mathematics) education in the USA. Dozens of teams of high-school and college students were engaged in preparation of the satellite hardware and analysis. The satellites are being deployed into low-earth orbit and will allow live data transmission.
In the future, the ThinSats can be deployed into constellations and expanded to larger sizes for hosting larger payloads.
The ThinSat Program is managed and funded by Virginia Commercial Space Flight Authority (Virginia Space) with Twiggs Space Lab LLC (TSL) operating as the general contractor, NearSpace Launch Inc (NSL) of Upland, IN, USA as the primary spacecraft designer and manufacturer, and Alta Devices as the solar cell provider.
"Until now, no commercial solar technologies could match the improvement in cost, weight and ease of use that other components of small-satellite technology have achieved," says NSL co-founder Hank Voss. Specifically, most solar cells are expensive, fragile, rigid and difficult to encapsulate and robustly attach to spacecraft, he adds.
In contrast, Alta Devices says that its solar cells are flexible, easy to encapsulate and mount, and provide high power conversion efficiencies. For example, cells can be mounted to low-mass deployable structures including coiled carbon-fiber booms, flat-packed, polymer-based accordioned arrays or even inflatable structures, allowing creative design approaches to maximizing onboard solar power. Alta Devices adds that its solar cells can empower autonomy by providing mechanical and design flexibility for the small-satellite industry.
Alta Devices' GaAs solar cells being used by Twiggs Space Lab, Nearspace Launch and Virginia Space
Tags: Alta Devices GaAs PV Hanergy
Visit:  www.altadevices.com