17 November 2017
Nakamura receives Mountbatten Medal at IET's 2017 Achievement Awards for pioneering development of blue LEDs and lasers
© Semiconductor Today Magazine / Juno Publishing
On 15 November, the UK-based Institution of Engineering and Technology (IET) - one of the world's largest engineering institutions (with over 168,000 members in 150 countries) - named the winners of its 2017 Achievement Awards, including the Mountbatten Medal for Nobel Prize winner professor Shuji Nakamura for his pioneering work to develop blue LEDs and lasers.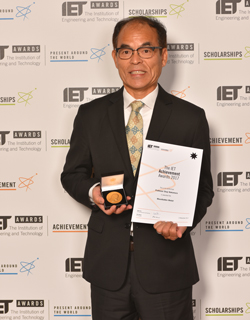 The IET Achievement Awards recognise individuals worldwide who have made exceptional contributions to the advancement of engineering, technology and science in any sector, through research and development in their respective technical field or through their leadership of an enterprise.
Nakamura used novel indium gallium nitride (InGaN) growth processes to enable the commercialization of blue LEDs as high-efficiency, low-power light sources, to which he holds the patent. He was also the first to demonstrate group III-nitride based high-brightness blue/green LEDs and violet laser diodes. His LED inventions have been used for multiple applications, including TV and mobile phone screens, due to their lower energy consumption, and enabled the development of the Blu-ray DVD.
"Professor Nakamura's inventions have resulted in highly successful commercial LEDs that not only save considerable energy consumption, but have revolutionized new technology such as the Blu-ray disk," commented IET president Nick Winser.
"Since the invention of the blue LED in 1993, many researchers joined the field and created many applications for solid-state lighting such as mobile phone screens, LED TV, and large displays," said Nakamura. "But the application with the greatest impact to the world's energy consumption is that of general illumination, recognizing that one quarter of all the world's electricity is used for lighting," he adds. "LED light bulbs are more than ten times efficient than incandescent bulb, and they last for 50 years. At their current adoption rates, by 2020 LEDs can reduce the world's need for electricity by the equivalent of nearly 60 nuclear power plants. I hope that the invention of blue LED could contribute to overcome the global warming issues."
The Mountbatten Medal was established by the National Electronics Council in 1992 and named after its first chairman, The Earl Mountbatten of Burma, who was president of the Institution of Electronic and Radio Engineers (IERE) in 1947-48 and 1961-62, which merged with the Institution of Electrical Engineers (now the IET) in 1998. He was also an Honorary Fellow.
The Achievement Awards are part of the IET's Achievement Awards and Scholarships program, which this year provided over £1m in awards, prizes and scholarships to celebrate excellence and research in the sector and encourage the next generation of engineers and technicians. All IET awards seek to inspire and reward engineering excellence, including apprentices at the start of their careers, through to reputable, established professional engineers and technicians.
Shuji Nakamura wins 2015 Global Energy Prize
Nakamura to receive Japan's Order of Culture Award
Professors Isamu Akasaki, Hiroshi Amano and Shuji Nakamura awarded Nobel Prize for physics
Tags: Shuji Nakamura Blue LEDs
Visit: www.theiet.org