13 March 2017
Peregrine launches SP6T, SP8T and SP12T RF switches for test & measurement equipment
Peregrine Semiconductor Corp of San Diego, CA, USA – a fabless provider of radio-frequency integrated circuits (RFICs) based on silicon-on-insulator (SOI) – has launched the UltraCMOS PE42562, PE42582 and PE42512 high-throw-count RF switches.
Optimized for the demands of next-generation test & measurement equipment, the PE42562 (SP6T), PE42582 (SP8T) and PE42512 (SP12T) absorptive switches support a wide frequency range from 9kHz to 8GHz and offer an external VSS pin to eliminate spur. With low insertion loss, high port-to-port isolation, what is claimed to be best-in-class linearity (of 60dBm IIP3), a fast switching time (in the 200ns range) and settling time, the new RF switches offer flexibility in a high-throw-count configuration. Each switch delivers power handling of 33dBm continuous wave (CW). The PE42562, PE42582 and PE42512 are suitable for test & measurement applications such as filter bank switching and transmit/receive (T/R) signal path switching.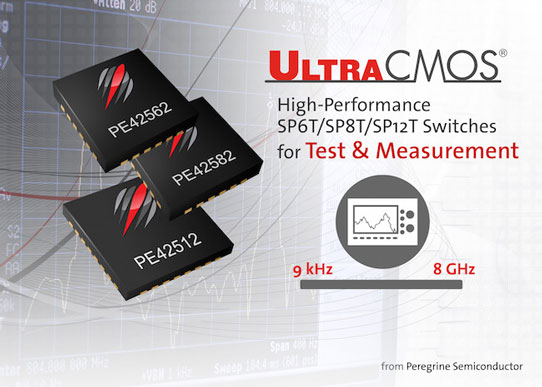 "Peregrine's new SP6T, SP8T and SP12T switches deliver an unparalleled combination of flexibility and performance in a high-throw-count configuration," claims director of marketing Kinana Hussain. "With a wide frequency range and external VSS pin, our team has optimized the PE42562, PE42582 and PE42512 to fit the unique needs of the test & measurement market."
An advantageous capability of the high-throw count switches is said to be a mirror port selection feature, which enables simultaneous RF path selection through a single control bus. Instead of a multitude of single-pole, double-throw (SPDT) switches, two high-throw-count switches can be used in a dual-switch configuration. To activate the mirror port selection feature, the logic select (LS) pin on one switch is grounded and the LS pin on the second switch is left with 'no connect'. This simplified layout — where one logic control signal is sent to both switches — saves board space and layout time.
The PE42562 and PE42582 are offered in a 24-lead 4mm x 4mm QFN package, while the PE42512 is available in a 32-lead 5mm x 5mm QFN package. Samples and evaluation kits are available now. Volume-production parts will be available at the end of March. For 10,000-unit orders, each PE42562 (SP6T) switch is $4.99, each PE42582 (SP8T) switch is $5.87, and each PE42512 (SP12T) switch is $10.28.
Visit: www.psemi.com