13 March 2017
Peregrine unveils high-throw-count RF switches for 4G and 4.5G wireless infrastructure
Peregrine Semiconductor Corp of San Diego, CA, USA – a fabless provider of radio-frequency integrated circuits (RFICs) based on silicon-on-insulator (SOI) – has launched the UltraCMOS PE42462, PE42482 and PE42412 high-throw-count RF switches.
The PE42462 (SP6T), PE42482 (SP8T) and PE42412 (SP12T) catalog switches have what is claimed to be the industry's best performance specifications in a high-throw-count configuration. With high port-to-port isolation, high linearity, low insertion loss and exceptional power handling, the absorptive switches are optimized for 4G and 4.5G wireless infrastructure switching applications such as robust digital pre-distortion (DPD) loops, filter banks and transmit/receive (T/R) paths signal routing. In addition, the three RF switches cover a frequency range from 10MHz to 8GHz, making them suitable for 5GHz LTE Licensed Assisted Access (LAA) and LTE WiFi Link Aggregation (LWA). Each switch delivers high linearity of 60dBm IIP3, power handling of 33dBm continuous wave (CW) and a fast switching time in the 200ns range.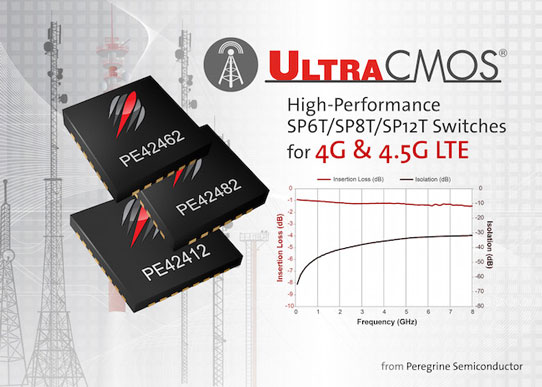 The PE42462, PE42482 and PE42412 allow advanced linearization techniques, such as DPD loops, to be used over a greater number of power amplifiers (PAs), maximizing spectral efficiency and data throughput. Recent advances in wireless base-stations have increased RF complexity, resulting in the need for more PAs per antenna sector. However, these PAs, if not optimized, can be a drain on the system's operational (OpEx) and capital (CapEx) expenditures. Linearization techniques, such as DPD loops, are used to compensate for the PA's non-linear behavior and improve adjacent channel power ratio (ACPR) in wireless base-stations. Additionally, a high-throw-count switch, like the PE42462, PE42482 and PE42412, enables a DPD loop to be leveraged over a greater number of PAs. However, this high-throw-count switch must meet stringent performance requirements in order to preserve the integrity of the monitored signal. Within the closed loop, the switch must have low insertion loss, high port-to-port isolation and high linearity to enable the single DPD receiver to accurately sample multiple transmit paths. Peregrine says that its new switches deliver performance in a high-throw-count configuration with no added noise or interference.
"The wireless infrastructure market has seen multiple input, multiple output (MIMO) technology evolve into massive MIMO, and their designs must support this ever-increasing number of signal channels," says director of marketing Kinana Hussain. "Peregrine's new high-throw-count switches deliver the performance needed to meet next-generation wireless infrastructure switching demands. Only Peregrine's UltraCMOS technology can enable this exceptional level of performance in a high-throw-count configuration," he claims.
The PE42462 and PE42482 are offered in 24-lead 4mm x 4mm QFN package, while the PE42412 is available in a 32-lead 5mm x 5mm QFN package. Samples and evaluation kits are available now. Volume-production parts will be available at the end of March. For 10,000-unit orders, each PE42462 (SP6T) switch is $1.76, each PE42482 (SP8T) switch is $2.35, and each PE42412 (SP12T) switch is $2.94.
Visit: www.psemi.com