5 July 2017
Mitsubishi Electric unveils first high-power 638nm red laser diode with built-in meniscus lens
Mitsubishi Electric Corp has unveiled the ML562H84 high-power 638nm-wavelength red laser diode (to be launched on 1 September) with what is believed to be the first built-in meniscus lens (all in a 9.0mm TO-CAN package). This collimates 98% or more of the laser beam, offering what is claimed to be industry-leading output power of 2.5W (under pulse operation), equal to that of conventional products with built-in lenses.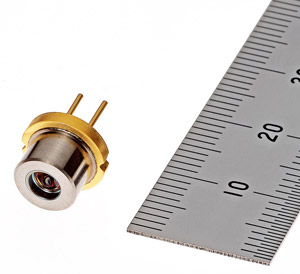 Picture: The ML562H84 high-power 638nm-wavelength red laser diode with build-in lens.
Conventional mercury lamp light sources for projectors are being replaced by solid-state light sources offering higher energy efficiency, a wider range of color expression and longer life. Laser diodes deliver especially high output power, low power consumption due to efficient power-conversion, an unmatched color range due to narrow spectrum, and superior picture quality with high contrast ratio.
In September 2015, Mitsubishi Electric launched its ML562G84 high-power red laser diode, which achieved 2.5W output (under pulse operation) as a red light source in three colors for projectors. However, when this model incorporated in projectors, it is necessary to collimate the laser beam using an external lens (or similar) and efficiently irradiate the imaging device. The new ML562H84 high-power 638nm red laser's built-in lens collimates the laser beam and reduces spread to about 1/700th. This eliminates the need for an external collimator lens, contributing to simplification of the optical design, miniaturization and cost reduction for projector applications.
The high-luminosity 638nm laser light and 2.5W output (under pulse operation) yield 120 lumens per laser diode. Due to the large 9.0mm-diameter transistor-outline can (TO-CAN) package with excellent heat dissipation, the range for operating case temperature (TC) is what's said to be an unmatched 0-45ºC (at 2.5W output power with a pulse duty ratio of 30%).
Mitsubishi Electric launching 2.5W 638nm red laser diode for pulse-operation projectors
Mitsubishi Electric develops record 1.8W 9.0mm TO-packaged 638nm red laser for projectors
Tags: Mitsubishi Electric Red laser diode
Visit:  www.csc.wales
Visit:  www.mitsubishielectric.com/semiconductors/products/opt/laserdevice