12 October 2016
Samsung launches its first CSP-based LED modules
South Korea's Samsung Electronics Co Ltd has launched a line-up of chip-scale package (CSP) LED modules for spotlights and downlights that features color tunability and increased design compatibility.
"Our new CSP LED modules provide an optimal solution for lighting manufacturers who seek highly compatible and reliable LED components," says Jacob Tarn, executive VP, LED business team.
The new LED modules are Samsung's first to incorporate CSP technology, which brings a wide range of lighting benefits such as significantly reducing the size of a conventional LED package. The combination of flip-chip and phosphor coating technology eliminates metal wires and plastic molds to enable more compact designs when manufacturing LED modules and fixtures.
The new CSP LED modules also deliver further characteristics that allow seamless tunable color. A color-tunable LED module requires twice the number of LED packages in cool and warm temperature, which work in combination on the same board to create a range of tunable colors. In contrast to conventional plastic-molded LED packages that inevitably increase the size of the modules, Samsung's ultra-compact chip-scale LED packages allow the module size to remain unchanged.
The new CSP LED modules are available in two form factors (19mm x 19mm or 28mm x 28mm) and are designed following Zhaga specifications, making assembly convenient. The modules are also said to provide high-quality lighting in diverse beam angle options – spot, medium, wide – for improved compatibility with the optical solutions of Samsung's partners. The new modules are based on CSP LED packages that have completed 9000 hours of LM-80 testing, reducing time to market for lighting manufacturers.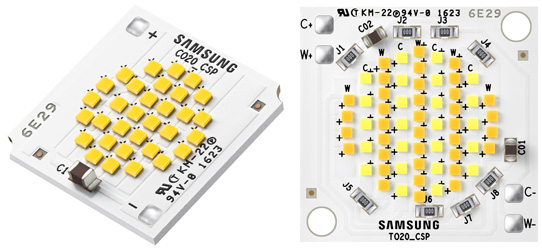 Picture: Samsung's new 19mm x 19mm CO20 and 28mm x 28mm TO20 CSP LED modules (left and right, respectively).
Samsung is now sampling six models of the new CSP LED module in color rendering indexes (CRIs) of 80 and 90 with varying lumen output, size and correlated color temperature (CCT) specifications: i.e. (for 80CRI) the 19mm x 19mm CO10 and CO20 (with power consumptions of 9.4W and 18.3W and outputs of 1050lm and 2060lm, respectively) and the 28mm x 28mm CO30 and CO40 (with power consumptions of 27.4W and 36.5W and outputs of 3090lm and 4120lm, respectively), all with CCT options of 2700/3000/3500/4000K, and the 28mm x 28mm TO10 and TO20 (with power consumptions of 9.2-9.8W and 17.7-18.4W and outputs of 1060/1150lm and 1970/2190lm, respectively), which are color tunable over CCTs of 2700-5000K.
Samsung launches full line-up of CSP-based LED components
Samsung unveils ultra-compact second-generation CSP technology for LED lighting
Visit: www.samsung.com