10 October 2016
First Solar commissions 52.5MW Shams Ma'an Plant in Jordan
Cadmium telluride (CdTe) thin-film photovoltaic module maker First Solar Inc of Tempe, AZ, USA has commissioned the 52.5MWAC Shams Ma'an project in the Hashemite Kingdom of Jordan, on schedule.
The plant is owned by a consortium of investors consisting of Diamond Generating Europe Ltd, Nebras Power Q.S.C. and the Kawar Group. First Solar contributed to the development of the project before divesting its stake and being appointed the engineering, procurement & construction (EPC) contractor. Shams Ma'an has a 20-year power purchase agreement (PPA) with the the country's power generation and distribution authority National Electric Power Company (NEPCO).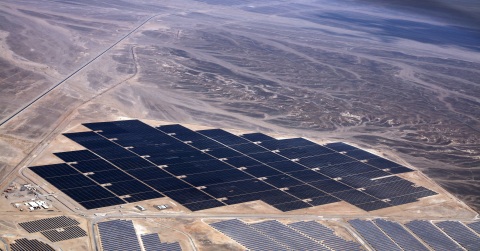 Picture: The 52.5MW Shams Ma'an Solar Power Plant in Jordan.
"This power plant will deliver on its promises, reliably generating energy over its lifetime and forming the cornerstone of Jordan's energy security strategy," comments Karim Kawar, chairman of Kawar Energy.
The plant, which accounts for about 1% of Jordan's total energy generation capacity, produces electricity using more than 600,000 First Solar Series 4 thin-film modules, which deliver up to 5% more specific energy in Ma'an than conventional crystalline silicon panels, it is reckoned. The modules are mounted on single-axis trackers that allow the facility to generate up to 20% more energy.
"Shams Ma'an has been engineered for performance and is further evidence of the fact that First Solar's high-performance modules can deliver more energy than conventional photovoltaic technologies in Jordan and across the Middle East," says Ahmed S. Nada, VP & region executive for First Solar in the Middle East.
The facility was constructed by a workforce that was almost entirely Jordanian, with First Solar spending over 40,000 man hours on training alone. "Our hope is that the skills acquired through this project will further enable Jordan's solar energy ambitions," says Dr Raed Bkayrat, First Solar's VP of business development for the Middle East.
The project takes First Solar's installed capacity in the Middle East to more than 70MWAC, with a further 200MWAC to be added when the second phase of the Mohammed bin Rashid Al Maktoum Solar Park is completed in 2017.
Tags: First Solar Thin-film photovoltaic CdTe
Visit: www.firstsolar.com