16 November 2016
Spectrolab solar cells to power Boeing Starliner spacecraft to ISS
Boeing subsidiary Spectrolab Inc of Sylmar, CA, USA (claimed to be the world's leading supplier of space solar cells) is to provide power aboard the Crew Space Transportation vehicle that is being developed by Boeing's Starliner program.
The Starliner is in development and is scheduled to begin crew transportation services to and from the International Space Station (ISS) in 2018 as part of NASA's Commercial Crew Program.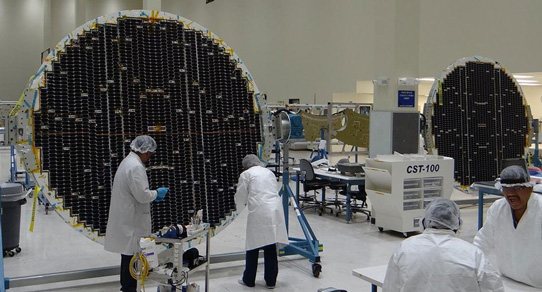 Picture: Spectrolab employees work to complete assembly of the Starliner solar panels in Sylmar.
"The Starliner program needed a highly efficient, high-quality power solution," says John Mulholland, VP & program manager for Boeing's Commercial Crew program. "This is a perfect example of the benefits of 'One Boeing'," he adds.
The Starliner will use Spectrolab's XTJ solar cells, which are made of three distinct cell layers to capture different portions of the energy spectrum. They will hence efficiently convert solar energy into usable electricity aboard the Starliner, allowing astronauts to complete their journey to the space station and back.
"Spectrolab has put its 60 years of history into the design of these XTJ solar cells," says president Tony Mueller. The firm has previously provided solar cells to the International Space Station, the Mars rovers Spirit and Opportunity, NASA's Juno probe to Jupiter and more than 700 other spacecraft. "It will be a momentous occasion when the Starliner launches for the first time," he adds.
Tags: Spectrolab
Visit: www.spectrolab.com
Visit: www.boeing.com/space/crew-space-transportation-100-vehicle