9 May 2016
Veeco's revenue falls 21% in Q1 to $78m
For first-quarter 2016, epitaxial deposition and process equipment maker Veeco Instruments Inc of Plainview, NY, USA has reported revenue of $78m, towards the high end of the $70-80m guidance range. However, this is down 21% on $98.3m a year ago and down 27% on $106.5m last quarter, driven largely by the decline from Lighting & Display markets (where LED chip makers continued to work through industry oversupply conditions).
Of total revenue, the Lighting, Display & Power Electronics segment – primarily metal-organic chemical vapor deposition (MOCVD) systems – has hence fallen further, from 67% in Q3/2015 and 47% in Q4/2015 to 29% in Q1/2016, most of which came from the EMEA (Europe, the Middle East & Africa) region, as LED. The Advanced Packaging, MEMS & RF segment has risen further, from 10% in Q3/2015 and 20% in Q4 to 30% of total revenue in Q1/2016, driven by strong growth in shipments to the RF (mobile device) market and capacity ramps for fan-out wafer-level packaging, which has been boosted by the Precision Surface Processing (PSP) business - formerly Solid State Equipment Holdings LLC (SSEC) of Horsham, PA, USA until its acquisition in Q4/2015. The Scientific & Industrial segment has risen to 19% of total revenue (from 17% in Q4/2015 and 10% in Q3). The Data Storage segment has risen to 22% (from 16% in Q4/2015 and 13% in Q3).
Correspondingly, on a geographic basis (compared with last quarter), China fell from 48% to 11% of total revenue, while the USA and EMEA represented 35% each (rising from 18% and 12%, respectively), with the rest of the world comprising the remaining 19% (down from 22%). "Many countries outside of the USA are experiencing slow growth impacted by weak currencies, high unemployment rates and geopolitical tensions," comments chairman & CEO John R. Peeler. "These factors continue to weigh on consumer spending and, in turn, the end markets in which we participate."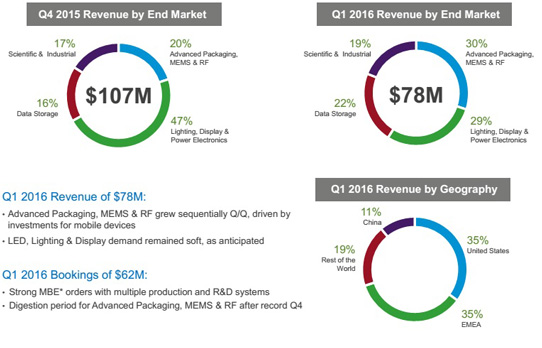 On a non-GAAP basis, gross margin was 41.7%, up from 36.8% last quarter and 37.7% a year ago, and above the 37-39% guidance (and well above the target of 40%) due to a favorable product mix as well as margin expansion in MOCVD and PSP products.
Operating expenses have risen from $37.1m a year ago but were steady quarter-over-quarter at $38m (at the low end of the guidance $38-40m range). "We are maintaining tight controls over expenses while continuing to make strategic R&D investments," says chief financial officer & executive VP-finance Sam Maheshwari.
"LED industry conditions remain weak. As we navigate this challenging environment, we are assessing our cost structure to align with the current business outlook while positioning the company for future growth," notes Peeler. "We are prioritizing investments in areas that offer meaningful growth. We're focused on qualifying our Precision Surface Processing (PSP) systems for additional Advanced Packaging applications and have made progress in our customer engagements for through-silicon via (TSV) applications. We are also leveraging our expertise in MOCVD to capture emerging opportunities for gallium nitride (GaN)-based power devices and to strengthen our position for arsenic/phosphide applications including automotive lighting. These efforts support our strategy to enhance growth and improve the stability of our revenue stream," Peeler concludes.
Net loss was $5.7m ($0.15 per share), compared with net income of $0.6m ($0.01 per share) last quarter, but better than the expected $14-10m ($0.35-0.25 per share). Adjusted earnings before interest, taxes, depreciation and amortization (EBITDA) was cut to -$2.1m, compared with + $4.4m last quarter, but better than the expected loss of $9-5m due to the strong gross margin performance. 
"Although business conditions remain challenging, Veeco executed well in the first quarter. We achieved revenue at the high end of our guided range, expanded non-GAAP gross margin to nearly 42%, as well as exceeded expectations for adjusted EBITDA and earnings per share," summarizes Peeler. 
Cash flow used by operations was $19m (up from $6m last quarter). Capital expenditure rose slightly to $4m. "We remain committed to investing in next-generation engineering programs, and these investments are made to enhance our ability to develop products for the Power Electronics and Advanced Packaging markets," says Maheshwari. Veeco also repurchased $13m of common stock. Cash and short-term investments hence fell from $385m to $349m.
After more than doubling sequentially to $107m last quarter, order bookings fell back to $62m (down from $102m a year ago), reflecting the ongoing impacts of global economic uncertainty, a slowdown in consumer spending and the weak LED industry environment.
Lighting, Display & Power Electronics rose from 30% of total orders to 39% (although still down on 59% a year ago). "While EPIK makes up the bulk of our MOCVD orders, we are beginning to generate customer interest for our recently launched K475i tool for red, orange and yellow (R/O/Y) LEDs, where we booked orders with a second customer in Q1," says Maheshwari.
Advanced Packaging, MEMS & RF fell sharply from a spike to 37% of orders in a record Q4/2015 to just 11% in Q1. "We are working with device manufacturers and OSAT [outsourced semiconductor assembly & test provider] customers to expand our PSP position and remain encouraged by the progress we are making in Advanced Packaging," says Maheshwari. "In RF and MEMS markets, we have seen a slowdown in the pace of new capacity orders which coincides with weaker-than-expected demand for high-end smartphones," he adds.
Scientific & Industrial rebounded from just 17% of total orders to 36%, supported by strong demand for MBE products. "We continue to win the lion's share of MBE opportunities for advanced materials research, and recently booked our 20th GENxplor Advanced Research System," says Maheshwari. "Roughly half of MBE orders were for production applications, where Veeco's technology is enabling high-power fiber lasers and high-end RF devices for mobile applications… We have a healthy pipeline of opportunities for MBE and optical tools," he adds.
Data Storage fell further, from 16% of total orders to 14%, impacted by declining PC demand and the ongoing transition to flash drives (so customers are limiting investments to critical technology buys).
During the quarter, total order backlog fell by $17m from $186m to $169m (down from $289m a year ago). "Business conditions remain challenging," comments Peeler.
For second-quarter 2016, Veeco expects revenue to be steady at $70-83m. Due to product mix, gross margin is expected to fall to 39-41% (although this is still ahead of the previous gross margin target at these low business volumes). Operating expenses should be steady at $37-39m. Veeco also expects net loss to worsen to $11-5m ($0.29-0.14 per share), and adjusted EBITDA loss of between -$6m and breakeven.
Based on current visibility, third-quarter revenue is trending to be in the same range as Q2/2016, concludes Veeco. "We are planning expense reduction initiatives in the near future which target lowering our EBITDA breakeven by year-end to quarterly revenue levels of $75-80m," notes Maheshwari.
Veeco's Q4 hit by MOCVD push-out, but full-year revenue still up 21%

Veeco launches K475i As/P MOCVD system
Veeco's Q3 revenue up 51% year-on-year, but MOCVD orders slump due to LED oversupply for display backlighting and China slowdown
Veeco enters profit, as EPIK system revenue recognition aids 33% growth in Q2
Veeco's Q1 shipments include $25m of deferred revenue for new EPIK MOCVD system
Tags: Veeco MOCVD MBE ALD Wet processing
Visit: www.veeco.com