6 May 2016
Oclaro reports 100G revenue growth for fourth consecutive quarter, up 94% year-on-year
For its fiscal third-quarter 2016 (to 26 March), Oclaro Inc of San Jose, CA, USA (which provides components, modules and subsystems for optical communications) has reported revenue of $101.1m, up 7.4% on $94.1m last quarter (a third consecutive quarter of approximately 7% sequential growth, despite the annual March-quarter price reductions) and up 22% on $83m a year ago.
Growth was again fueled by 100G product revenue of $58.6m (58% of total sales), up 18% on $49.5m (53% of total sales) last quarter and up 94% (nearly doubling) on $30.2m (36% of total sales) a year ago.
This more than offset the expected decline for 40G-and-below products, to $42.5m (42% of total sales), down 5% on $44.6m (47% of total sales) last quarter and down 19.5% on $52.8m (64% of total sales) a year ago. Of this, 40G specifically contributed just $11.5m (11.4% of total sales), down as much as 39.5% on $19m (23% of total sales) a year ago, while 10G contributed $31m (30.7% of total sales), down only 8.3% on $33.8m (41% of total sales) a year ago. "We are seeing unanticipated strong demand for 10G transceivers and tunable products," notes CEO Greg Dougherty.
Both the client-side and line-side businesses grew. Line-side (telecom) revenue was $47.7m (47% of total sales), up 11% on $43.1m last quarter. "We saw very good growth in our lithium niobate modulators and our tunable narrow-linewidth lasers used in 100G coherent systems," notes Dougherty. "We also saw our first production revenues from the CFP2-ACO." Client-side (datacom) revenue was $53.4m (53% of total sales), up 5% on $51m last quarter and up 40% on $40.4m (49% of total sales) a year ago. "We continue to see very strong demand worldwide for our 100G pluggable CFP product family," says Dougherty. 
By region (compared with last quarter), China rose from 37% to 43% of total revenue, while the Americas fell from 35% to 28% and Europe fell slightly from 16% to 15%, as Southeast Asia rose from 10% to 11%, and Japan rose from 1% to 2%. There were four customers with greater than 10% of sales (20%, 14%, 12% and 11%, respectively).
"These results are a testament to our improved execution," says Dougherty. "In spite of the seasonal price reductions, we delivered strong gross margin and operating income."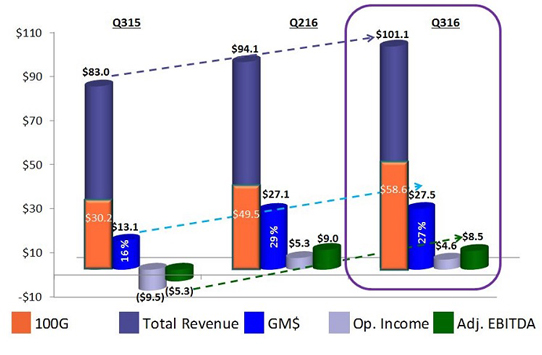 On a non-GAAP basis, gross margin was 27.2%, down only slightly from 28.8% last quarter (as expected, absorbing the annual price reductions) but up significantly from 15.8% a year ago, driven by a stronger mix of 100G sales, improved factory efficiencies, and leveraging of manufacturing overhead.
Operating expenses rose from $21.8m last quarter to $22.9m, due mainly to seasonal beginning-of-the-year payroll taxes in the USA and the UK (remaining 23% of sales, although this should fall to about 21% in future as the firm grows further).
Operating income was $4.6m, down slightly from $5.3m last quarter but much improved from a loss of $9.5m a year ago. Likewise, net income was $2.9m ($0.03 per diluted share), down slightly from $3.1m ($0.03 per diluted share) last quarter but a big improvement on a loss of $9.6m ($0.09 per diluted share) a year ago. Adjusted EBITDA was $8.5m, down slightly from $9m last quarter but an improvement on -$5.3m a year ago.
Capital expenditure (CapEx) was $8.6m (making $24.3m year-to-date, and on target for $30-40m full-year). During the quarter, cash, cash equivalents and restricted cash hence fell from $115.7m to $106.8m.
"Our success in 100G and beyond, together with the incredibly strong demand from China, is currently fueling our growth," says Dougherty. "China continues to be very strong for us and we are well positioned with all four of the major network equipment manufacturers in the region. We have a robust demand for all of our 100G products, as well as unanticipated demand for 10G parts," he adds. "As an industry analyst research firm recently reported, the outlook is for continued strong growth in China not just for the balance of this calendar year, but well into 2017. We believe that demand for 100G is for a widely publicized backbone in metro networks, while the 10G products are from metro networks and access aggregation," continues Dougherty.
"This strength in 10G is important as we now have a final plan for the end-of-life of or our 40G line-side business," says Dougherty. As part of the firm's exit, it expects that the 40G business will drop by $3-4m in both fiscal Q4 and fiscal Q1/2017. But, given the strength of 10G business, Oclaro expects total 40G-and-below business to drop by only 5% in fiscal Q4 and then to remain fairly flat in the mid-$30m for the rest of calendar 2016.
"Our 100G growth is not just coming from China, but also being driven by more 100G being deployed in packet optical networks, the move to single-mode 100G in the data center, and the emerging metro market," notes Dougherty.
"We continue to lead the CFP2-ACO market based on many ongoing field trials and design wins. Our customers are telling us that our product performance is much better than the competition, particularly for 200G applications which are emerging as the preferred solutions for the datacenter interconnect market," Dougherty says. "During the quarter, we launched production from Asia [from Malaysian contract manufacturer Venture] of our CFP2-ACO product… the production ramp in Asia for the ACO is going much better than our initial plan," he notes. "We expect the ramp of the ACO, and increase in capacity for both our client- and line-side 100G portfolios, will drive further improvement in our financial results for the June quarter and the rest of this calendar year."  
Oclaro has also substantially increased its production capability for lithium niobate modulators and narrow line-width lasers for coherent transmission. "We have gained and are continuing to gain market share for both of these products," believes Dougherty.
Oclaro is also continuing to increase its 100G client-side manufacturing capacity for CFP, CFP2 and CFP4 products. "We expect the extra capacity to begin having a positive impact this quarter," he adds.
On top of the high market demand for the CFP family, Oclaro is experiencing much stronger and earlier-than-expected demand for QSFP28 transceivers both for CWDM and LR4. "We have several design wins at traditional packet optical network equipment manufacturers, as well as routing and switching companies," notes Dougherty. "We have also had initial successes with the QSFP28 by working directly with some of the Web 2.0 hyperscale customers." Oclaro is currently production constrained on the QSFP28 and recently allocated a significant amount of capital spending to grow capacity. "We will continue to ramp production of the QSFP28 family through the balance of this calendar year," he notes.
"Once again, our growth in Q4 will not be gated by demand, but will be limited by what we are able to ship. We continue to run very tight on capacity for most of our 100G products, as well as for our tunable 10G offerings [for which the strong demand is expected to continue over the next few quarters]," cautions Dougherty.
For fiscal fourth-quarter 2016 (a 14-week quarter, ending 2 July), Oclaro expects revenue to rise to $115-123m. The firm also expects gross margin of 27-30%, operating income of $7-11m (doubling on the prior quarter), and EPS of $0.04-0.07.
Oclaro's quarterly revenue grows 8%
Oclaro achieves positive adjusted EBITDA and non-GAAP operating income
Oclaro reports better-than-expected preliminary quarterly results
Oclaro's CFP 100G client-side transceiver capacity expansion compensates for drop in 40G telecom sales
Oclaro's revenue constrained by 100G client-side CFP and CFP2 module capacity
Tags: Oclaro
Visit: www.oclaro.com