19 May 2016
Everlight launches AEC-Q101-qualified high-power LEDs in highly reflective packages for exterior automotive applications
Taiwan-based Everlight Electronics Co Ltd has launched four new ceramic high-reflective-packaged high-power automotive LEDs with a golden lead frame in four different colors - white, PC-amber, red, and super-red - according to the preferred exterior applications.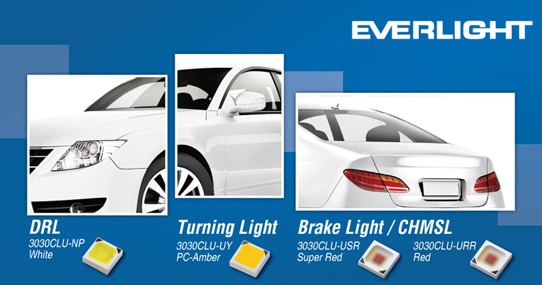 The 3030CLU-NP (white) features a cool color temperature of 5180-6680K, making is especially suitable for daytime running lamps (DRLs). The 3030CLU-UY (PC-amber) is recommended for turn indicators and tail lights. As for center high-mount stop lamps (CHMSLs), brake lamps and rear combination lamps, Everlight is introducing red and super red color options. Both 3030CLU-URR (red) and 3030CLU-USR (super-red), with wavelengths of 612-624nm and 627-639nm respectively, provide high luminous flux at a drive current of 350mA. The 3030CLU-USR (super-red) is based on European OE's preference and provides a more vivid and hence easier-to-recognize red color, which is expected to help to reduce car accidents. 
With a compact size (3.0mm x 3.0mm x 0.8mm) and a wide viewing angle of 120°, the 3030CLU(AM) Series of LEDs is offered in a golden high-reflective package. Using a ceramic substrate results in lower costs and a low thermal resistance of less than 7°C/W for optimized heat management. A further benefit is a junction temperature (Tj) of up to 150°C while maintaining good performance. Typical 3030 packages are destroyed at this temperature, but the 3030CLU(AM) is more suitable for demanding exterior automotive applications. A golden lead frame also improves sulphur resistance.
The 3030CLU(AM) LED packages have passed qualification according to AEC-Q101 and comply with the highest moisture sensitivity level standard MSL1 (an electronic standard for the time period during which a moisture-sensitive device can be exposed to ambient room conditions). The devices are also ESD protected for voltages up to 8kV.
Samples of 3030CLU(AM) series LEDs are available now upon request. Mass production is starting during second-quarter 2016.
Tags: Everlight Automotive LED lighting
Visit: www.everlight.com