23 March 2016
Transphorm introduces only fully qualified 650V GaN FET, with lowest on-resistance in TO-247 package
Transphorm Inc of Goleta, near Santa Barbara, CA, USA - which designs and manufactures JEDEC-qualified 650V gallium nitride (GaN)-based devices for high-voltage power conversion applications - has launched the TPH3207WS GaN field-effect transistor (FET), which has what is claimed to be the lowest on-resistance (R(on)=41mΩ) in a TO-247 package, reducing system volume as much as 50% without sacrificing efficiency. Transphorm says that the device's low Rds(on) and ultra-low reverse-recovery charge (Qrr) of 175nC bring the benefits of GaN to applications that previously relied on silicon, enabling engineers to achieve power-dense solutions with reduced component count and improved reliability in high-voltage power conversion applications.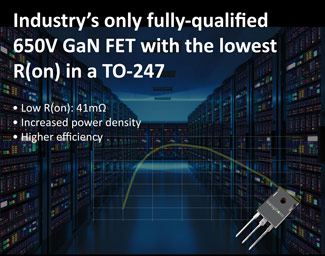 The TPH3207 is said to improve system reliability, performance and power density in an easy-to-handle cascode configuration (EZ-GaN) that can be easily driven with off-the-shelf drivers. Also, the device's TO-247 industry-standard packaging allows for ease of design and development and low electromagnetic interference (EMI). Also, faster switching speeds from low capacitances and gate charge enable designers to double the power density, reducing the overall system costs.
These advantages are being realized in hard-switched bridges and the continuous conduction mode (CCM) bridgeless totem-pole power factor correction (PFC) designs (reducing overall power supply losses by as much as 40% while achieving up to 99% efficiency) in on-board chargers, solar inverters, telecom power supplies and other power conversion applications.
TPH3207WS samples are available to purchase now, priced at $22.69 for 1000-unit quantities.
Transphorm's GaN FET portfolio is also strengthened with the introduction of the TPH3208 family (130mΩ) in industry-standard TO-220 and PQFN packages.
Tags: Transphorm GaN-on-Si GaN HEMT Power electronics
Visit: www.transphormusa.com