7 March 2016
IQE's Andrew Griffiths wins Young Engineer of the Year title at the ESTnet Awards
Epiwafer foundry and substrate maker IQE plc of Cardiff, Wales, UK says that Andrew Griffiths, process engineer at IQE's Photonics business unit based in Cardiff, was named Young Engineer of the Year at the ESTnet Awards 2016 at a gala ceremony held on 2 March at the Wales Millennium Centre.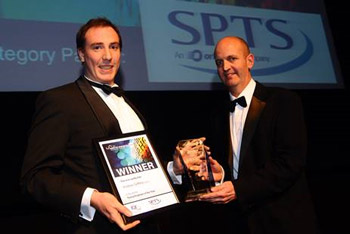 Picture: IQE's Andrew Griffiths, winner of the Young Engineer of the Year award (courtesy ESTnet).
The independent judging panel awarded Griffiths the title for his achievements at IQE, where he tackled a number of key projects. He has played an active role and made significant contributions to a number of process improvement activities within IQE's photonics business unit that have helped further advance the teams engineering and operational capabilities.
"This award is a well-deserved recognition of Andrew's hard work and commitment," says IQE's CEO Dr Drew Nelson. "Now in its fifth year, the ESTnet awards act to showcase excellence in the electronics, software and technologies sector in Wales," he adds. "The importance of attracting and retaining young talent into our industry cannot be overestimated and is essential to building a vibrant, high-tech economy."   
Tags: IQE
Visit: http://estnet-awards.co.uk
Visit: www.iqep.com