14 March 2016
Fairchild launches its first 1200V SiC diode, targeting high-speed solar inverters and rugged industrial applications
Fairchild Semiconductor of San Jose CA, USA has launched its first 1200V silicon carbide (SiC) diode, the FFSH40120ADN, in its series of upcoming SiC solutions. The 1200V diode's combination of switching performance, reliability and low electromagnetic interference (EMI) make it suitable for next-generation solar inverters, industrial motor controls and welders, which are all increasingly required to be more energy efficient at higher power densities.
"The combination of market trends and tightening industry standards is driving the need for more energy-efficient products, and our new 1200V SiC diode is designed specifically to help manufacturers achieve these ever-greater efficiency requirements and with better reliability, ruggedness and cost efficiency," says Jin Zhao, VP & general manager of Fairchild's High Power Industrial division. "We based this diode on silicon carbide due to the material's considerable advantages over silicon, and we will add additional SiC-based semiconductors as we build a comprehensive family of SiC solutions."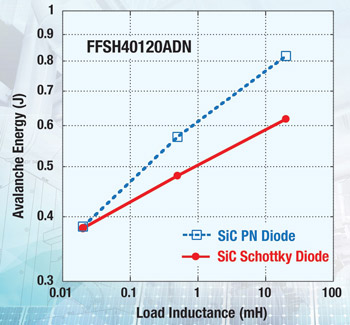 The FFSH40120ADN diode has what is claimed to be the best leakage current performance in its class, leaking far less current at temperatures up to 175°C. Key benefits include fast switching and no reverse recovery current, which reduces switching losses compared to silicon and results in superior energy efficiency. Faster switching also allows manufacturers to reduce the size of their products' magnetic coils and associated passive components, which improves packaging efficiency, reduces system weight, and can reduce bill-of-materials (BOM) costs.
The diode's ability to switch stably over a wide temperature range is another factor contributing to its performance, as is its zero recovery voltage which eliminates voltage overshoots.
Fairchild will demonstrate the performance of the new 1200V SiC diode in booth #1717 at the Applied Power Electronics Conference and Exposition (APEC 2016) in Long Beach, CA (20–24 March).
Tags: Fairchild
Visit:  www.fairchildsemi.com/sic