7 June 2016
Visible light communication/Li-Fi market to reach $101.3bn by 2024
The global VLC/ Li-Fi market is expected to grow from just $454.8m in 2015 to $101.3bn by 2024, driven by increasing concern over cyber security, according to a report 'Visible Light Communication (VLC)/Light Fidelity (Li-Fi) Market Analysis By Component (LED, Photodetector, Microcontroller), By Application (Retail, Automotive & Transportation, Consumer Electronics, Healthcare, Defense & Security and Aviation) And Segment Forecasts To 2024' by Grand View Research Inc.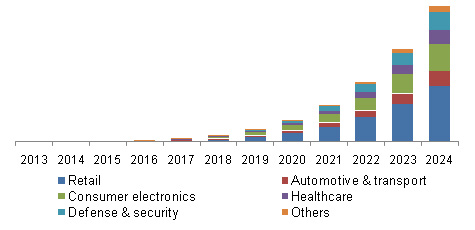 Picture: The US VLC market by application, to 2024.
The growing need for 'green' technology solutions with low power consumption is encouraging the development of advanced communication systems, notes the report. VLC is a disruptive technology and is hence expected to seize a substantial share of the Wi-Fi market in the near future. However, adoption is at a nascent stage, with use currently for niche applications. Extensive R&D investment can hence help market players to gain a competitive advantage.
High illumination, longer life and low power consumption of has led to implementation of the LED as a component in LiFi systems. Government promotion of smart LED bulbs in developed countries such as the USA and the UK is expected to provide a massive infrastructure base to VLC system providers.
The increasing application of indoor location-based services embedded with light fixtures in retail shops and hotels is projected to be one of the factors driving revenue growth. Several companies such as GE Lighting and ByteLight Inc as well as Koninklijk Philips N.V. are deploying VLC installations in supermarkets, which in turn is helping retailers to gather customers' shopping histories by tracking their location details. This is helping the retailers to deliver on-site information tailored to a customer's needs.
Advances in the automotive industry are projected to enhance commuter safety. This is being executed through vehicle-to-vehicle (V2V) and vehicle-to-the-roadside (V2R) communication by installing LEDs in the headlights and tail-lights of the vehicle. However, high installation and repair costs are projected to obstruct the large-scale implementation of these systems, especially in emerging economies.
Visible light communication market to more than double annually to $113bn in 2022
Tags: LEDs
Visit: www.grandviewresearch.com/industry-analysis/visible-light-communication-market