26 July 2016
Peregrine appoints Murata veteran as general manager of High Performance Analog business unit
Peregrine Semiconductor Corp of San Diego, CA, USA – a fabless provider of radio-frequency integrated circuits (RFICs) based on silicon-on-insulator (SOI) – has promoted Takaki Murata to VP & general manager of its high-performance analog (HPA) business unit.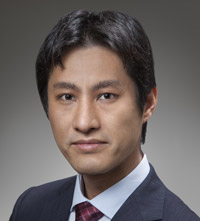 Picture: Takaki Murata.
"Peregrine Semiconductor was acquired by Murata in December of 2014, and they have proven to be a powerful and supportive parent company," notes CEO Jim Cable. "Takaki has been preparing for this promotion for the last year and a half, as he served on the executive staff of our HPA business," he adds. "The timing of this promotion reflects the success of our integration and the logical next step to further our assimilation into the Murata family of companies."
Takaki has a Ph.D. in electrical engineering and 12 years of experience at Murata, in a range of different assignments including: LTCC material development, SAW (surface acoustoc wave) filter development, antenna sales engineering, RF front-end sales engineering, corporate accounting and inductor business strategic planning. Since early 2015, he has been VP of business development inside HPA.
"Murata is looking to Peregrine to provide semiconductor innovation to be applied to the Murata advantage in our growth markets of power, automotive, healthcare and 5G," says Norio Nakajima, executive VP communication and sensor business unit, and energy business group of Murata Manufacturing Co. "We have heavily invested in Peregrine because we see their technological advantage as critical to many of our new and growth initiatives," he adds. "Takaki is ideally suited to his new position because of his technological expertise and his deep and long history with Murata Manufacturing," he believes.
Since the purchase by Murata in December 2014, Peregrine has increased its employee base by 40%. "The continued investment in Peregrine by Murata is an indicator of the significance that it places on our technology and innovation," says Cable.
Peregrine's HPA business unit serves more than over 4000 global customers in end markets ranging from wireless infrastructure and wired broadband to test & measurement (T&M), automotive and aerospace. Most recently, it launched its first product into the power/energy marketplace. Products include RF switches, digital step attenuators (DSAs), digitally tunable capacitors (DTCs), tuning control switches, power limiters, phase-locked loops (PLLs), mixers, pre-scalers, DC-DC converters, monolithic phase and amplitude controllers (MPACs) and what is claimed to be the fastest GaN FET driver available.
Tags: Peregrine SOI E-mode GaN FETs
Visit: www.psemi.com