29 January 2016
EpiTop claims record 176.6mW output for single-die 280nm DUV LED
EpiTop Optoelectronic Technology Co Ltd of Anhui province, China (which was was established in 2010 and manufactures full-color LED epitaxial wafers and chips) has demonstrated what is claimed to be record optical output power of 176.6mW (at a DC operating current of 1A, at room temperature) for a deep ultraviolet (DUV) LED emitting at a wavelength at 280nm from a single die (a 4545 large-chip device).
In October 2015 parent company YuanRong Photoelectric Technology Co Ltd (Harmony Photoelectric Technology Co Ltd) extended its business from visible LEDs into DUV LEDs by acquiring Qingdao-based QD Jason Electric Co Ltd (founded in 2001, and reckoned to be China's only commercial DUV LED maker).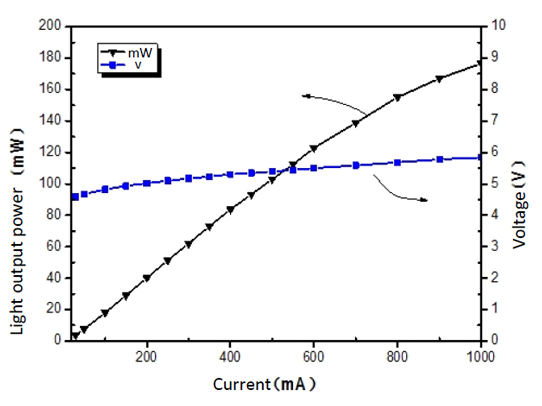 Figure: L-I and IV characteristics of EpiTop's 4545 large-chip UV LED at 280nm.
"The new world record high optical output power was realized by using our proprietary homemade MOCVD [metal-organic chemical vapor deposition] technology and improved fabrication and packaging approach," says EpiTop's president Bob Liang. "The device voltage is as low as 5.8V, even at 1A, with differential resistance of 1 Ohm only - such great electrical performance allows the large chip to be driven up to 1A under DC operation before saturation, a contribution to the high output power achievement," he adds. 
"We are working on to transfer our new technology into production," says Liang. "We expect in the middle of this year to start shipping high-power products, which will speed up the development of high-power DUV LEDs application, strengthen the company's world leading position in the DUV LEDs area," he adds. 
"Our goal is to provide the world most efficient and lowest-cost DUV LEDs devices," continues Liang. "Our DUV LEDs have already been used in many appliances like water purifier machine, humidifier, air purifier, sanitizing devices and so on. EpiTop Technology will continue to work closely with the customers to develop innovative products enabled by our DUV LEDs devices."
Tags: DUV LEDs
Visit: www.epitop.com.cn/en