14 January 2016
EPC's CEO & co-founder Alex Lidow receives SEMI Award for North America
Efficient Power Conversion Corp (EPC) of El Segundo, CA, USA, which makes enhancement-mode gallium nitride on silicon (eGaN) power field-effect transistors (FETs) for power management applications, says that at the Industry Strategy Symposium (ISS) banquet of SEMI (industry association Semiconductor Equipment and Materials International) in Half Moon Bay, CA, USA (on 12 January) its CEO & co-founder Dr Alex Lidow was presented with the 2015 SEMI Award for North America (in the area of Process and Technology Integration) for innovation in power device technology, enabling the commercialization of GaN devices with performance and cost advantages over silicon.
The awards also honored Chenming Hu for the BSIM (Berkeley short-channel insulated-gate FET model) families of compact transistor models, and an Intel team for the implementation of bulk CMOS FinFET production.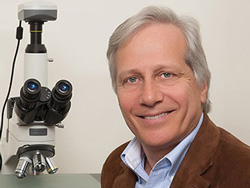 Picture: EPC's CEO & founder Alex Lidow.
Established in 1979, the SEMI Award was designed to recognize significant technological contributions to the semiconductor industry and to demonstrate the industry's high esteem for the individuals or teams responsible for those contributions.
With silicon-based devices approaching their limits in speed and efficiency, Lidow was prompted to develop GaN technologies, but high cost limited commercial success. Lidow led GaN development activity at International Rectifier Corp and continued that work at EPC, which he co-founded in 2007. EPC introduced the first commercial E-mode GaN power transistors in 2009. Challenges from resolving packaging limitations to establishing a low-cost supply chain were overcome, paving the way for the commercialization of GaN power devices.
GaN transistors and integrated circuits, which EPC says it now sells to almost every major electronics company in the world, allow companies to make smaller, faster and more power-efficient products compared with those made from silicon. The use of GaN enables new technologies and the advancement of existing technologies in a variety of areas, including 4G and 5G wireless communications, wireless charging, augmented-reality glasses, autonomous vehicles and wireless medical technology.
"It has been my driving passion to save energy by developing more efficient semiconductors," says Lidow. "The innovative team at EPC has delivered the industry's first off-the-shelf enhancement-mode gallium nitride transistors and ICs and will continue to partner with our customers to use GaN to change the way we live."
Tags: EPC E-mode GaN FETs GaN-on-Si
Visit: http://digikey.com/Suppliers/us/Efficient-Power-Conversion.page
Visit: www.epc-co.com
Visit: www.semi.org