25 February 2016
Veeco's Q4 hit by MOCVD push-out, but full-year revenue still up 21%
Epitaxial deposition and process equipment maker Veeco Instruments Inc of Plainview, NY, USA has reported revenue for full-year 2015 of $477m, up 21% on 2014's $392.9m.
Fourth-quarter 2015 revenue was $106.5m, down 6% on $113.6m a year ago and 24.5% on $141m last quarter. Veeco had warned in late October of an impact on Q4 of the push-out of a number of metal-organic chemical vapor deposition (MOCVD) systems into 2016 by a China-based LED maker (while this customer faced challenges in securing letters of credit). Nevertheless, Q4 revenue was still towards the upper end of the $90-110m guidance range. 
On a geographic basis, China comprised 48% of total revenue (falling back from 58% last quarter), the USA 18%, EMEA (Europe, the Middle East & Africa) 12%, and the rest of the world 22% (including growth from both Japan and Taiwan).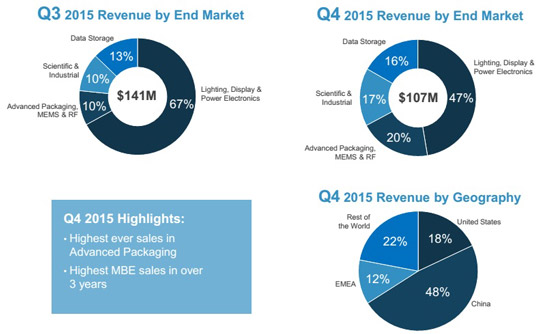 The Lighting, Display & Power Electronics segment - primarily MOCVD systems - contributed 47% of total revenue (falling from 67% last quarter) and included the remaining EPIK MOCVD system from the Sanan order announced in December 2014.
The Advanced Packaging, MEMS & RF segment contributed a record 20% of revenue (doubling from 10% last quarter), focused heavily on the RF device segment. For Precision Surface Processing (PSP) - formerly Solid State Equipment Holdings LLC (SSEC) of Horsham, PA, USA until its acquisition in Q4/2015 - full-year revenue growth was more than 20%, significantly exceeding the targeted 10%. "PSP has enabled us to significantly expand our footprint in the RF and MEMS markets and also gain entry into the high-growth Advanced Packaging space," says chairman & CEO John R. Peeler.
The Scientific & Industrial segment contributed 17% of revenue (up from 10%), driven by ion beam etch sales and the highest sales in more than three years for molecular beam epitaxy (MBE) systems (used to produce high-end gallium arsenide RF switches). The Data Storage segment rose slightly from 13% to 16% of revenue.
On a non-GAAP basis, gross margin was 36.8%, down from 38.5% a year ago and 39.1% last quarter, but higher than the expected 32-35% due to a slightly stronger product mix. Full-year gross margin rose from 36.3% in 2014 to 38% for 2015.
Operating expenses in Q4 were $38m, roughly level with $38.1m a year ago but up from $36.4m last quarter and slightly above the expected $35-37m due to variable compensation expense. Operating income was $1.1m (down from $18.6m last quarter). So, after depreciation of $3.3m, adjusted earnings before interest, taxes, depreciation and amortization (EBITDA) was $4.4m, down from $8.3m a year ago and $21.8m last quarter. Full-year adjusted EBITDA was $41.7m, up on 2014's $2.6m.
Net income in Q4 was $0.6m ($0.01 per share), down on $5.1m ($0.13 per share) a year ago and ($0.33 per share) last quarter. However, full-year net income of $22.1m ($0.54 per share) compares with a loss of $4.1m ($0.10 per share) in 2014.
"We ended 2015 on a positive note, delivering solid Q4 revenue and adjusted EBITDA and exceeding the high end of our guidance range for gross margin," notes Peeler.
For full-year 2015, Veeco generated $16m in cash from operations (the 12th consecutive year of positive operational cash flow). However, for Q4/2015 net cash used by operations was $6m. Also in Q4, Veeco spent $9.2m to repurchase common stock. Altogether, during the quarter, cash and short-term investments fell by $18m from $403m to $385m.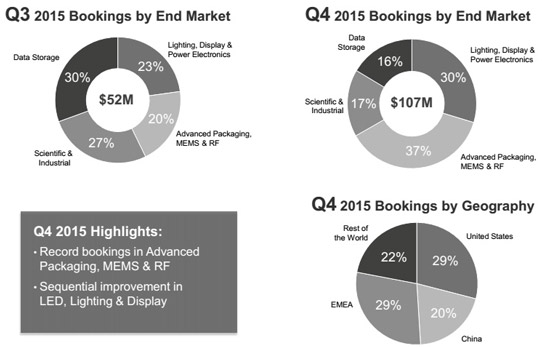 Following the sharp dip to $52m last quarter, order bookings more than doubled sequentially to $107m in Q4.
Advanced Packaging, MEMS & RF orders rose from 27% of total orders last quarter to 37% in Q4 (mostly due to RF orders growing by over 300%, driven by incremental capacity investments for future smartphone demand). "A majority of the RF device manufacturers utilize our PSP tool for production, and we won business from a new customer this quarter, further strengthening our RF position," says chief financial officer Sam Maheshwari. "We also saw significant momentum for PSP in advanced packaging. We received production orders from multiple customers including a leading Asian foundry and penetration into an Asian OSAT [outsourced semiconductor assembly & test provider]," he adds.
Scientific & Industrial fell from 27% of total orders last quarter to 17%. However, orders increased sequentially on a dollar basis and were divided evenly between MBE for advanced materials research and ion beam deposition tools for optical coating. Data Storage fell from 30% of total bookings last quarter to 16% in Q4.
Lighting, Display & Power Electronics rebounded from the sharp dip to 23% of total orders last quarter to 30% in Q4. "While this is a clear improvement over Q3, it still reflects the weak LED industry environment and the oversupply condition," says Maheshwari. "Sales for certain applications, such as automotive LEDs, have been less impacted by current market conditions," he adds.
"The vast majority of our MOCVD orders were for US- and Europe-based customers, who have a more diversified product portfolio," says Maheshwari. On a geographic basis, China comprised just 20% of total orders, the USA 29%, EMEA 29%, and the rest of the world 22%.
Total order backlog at the end of Q4/2015 remained flat quarter-to-quarter at $186m, down on $287m a year ago.
"Entering 2016, we continue to face a weak macro-economic environment and challenging LED industry conditions. As a result, we expect investments for MOCVD equipment will remain soft through the first half of this year," says Peeler. "During this time, we continue to strengthen our product portfolio and recently introduced the TurboDisc K475i MOCVD reactor [for arsenic phosphide (As/P) red, orange, yellow (R/O/Y) LEDs] to complement our industry-leading EPIK 700 MOCVD product [for gallium nitride blue LEDs]. We remain focused on positioning the company for long-term growth," he adds.
"Since our bookings in Q3 of 2015 were low, we see its impact in projected Q1 revenue," says Maheshwari. For first-quarter 2016, Veeco expects revenue to drop sharply to $70-80m. Nevertheless, gross margin should still rise to 37-39%. Operating expenses are guided to be $38-40m. Veeco expects an adjusted EBITDA loss of $9-5m and a net loss of $14-10m ($0.35-0.25 per share).
"We have been successful in our efforts to lower material cost for EPIK and stabilize pricing, which should support gross margin expansion going forward," notes Maheshwari. "We believe our target of 40% is achievable at closer to $100m in revenue levels," he adds.
Veeco launches K475i As/P MOCVD system
Veeco's Q3 revenue up 51% year-on-year, but MOCVD orders slump due to LED oversupply for display backlighting and China slowdown
Veeco enters profit, as EPIK system revenue recognition aids 33% growth in Q2
Veeco's Q4 MOCVD revenue up 55% year-on-year while orders almost triple
Veeco cuts losses, but growth in MOCVD revenue offset by MBE and Data Storage  
Tags: Veeco MOCVD MBE ALD Wet processing
Visit: www.veeco.com