3 February 2016
Evatec launches new website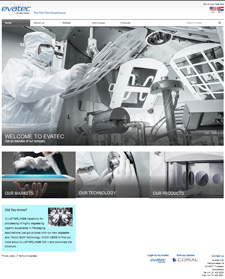 Evatec Ltd of Flums, Switzerland, which makes thin-film deposition and etch processing equipment for semiconductor, MEMS, optical and optoelectronic applications, has introduced a new web site which the firm says is easier to navigate, both on desktop and mobile devices.  
Image: A fresh, clean look to Evatec's new website.
Clearly marked page headings for Markets, Technology, and Products help guide users to identify the correct platform for their process and to learn about Evatec's technology. Visitors to the site can access full details of Evatec's products quickly and efficiently.
Evatec's head of marketing and communication, Allan Jaunzens said, "We are asking people to take a moment to look at the new site and give us some feedback via the contact form. As a small thank you, all respondents will be entered in a prize draw at the end of February to win a good bottle of Swiss wine."
See: www.evatecnet.com/about-us/contact-us
Tags: Evatec Electron Beam Evaporation Sputtering PECVD Etch
Visit: www.evatecnet.com