29 February 2016
Aixtron ships AIX G5+ C MOCVD system to Exagan for production ramp of GaN-on-Si power-switching devices
Deposition equipment maker Aixtron SE of Herzogenrath, near Aachen, Germany has shipped an AIX G5+ C metal-organic chemical vapor deposition (MOCVD) system to start-up company Exagan.
Based in Grenoble, France (with a branch office in Toulouse), Exagan was spun off in 2014 from Soitec and micro- and nanotechnology research center CEA-Leti (with financial support from each), and licenses materials and technology from both organizations. Exagan aims to accelerate the power-electronics industry's transition from silicon-based technology to smaller and more efficient electrical converters based on GaN-on-silicon technology. Its GaN power switches are designed for full compatibility with standard 200mm-wafer silicon foundries to deliver high-performance, high-reliability products through a robust supply chain.
Exagan will use the MOCVD system in beginning volume production of GaN-on-Si materials for power-switching devices.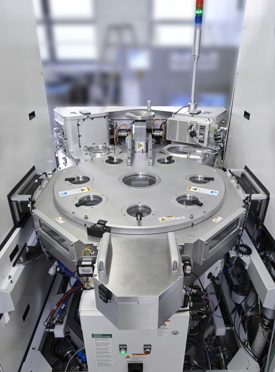 Picture: Aixtron's cassette-to-cassette wafer handler for AIX G5 MOCVD systems.
The AIX G5+ C Planetary Reactor epitaxy production platform comes in a 5x200mm configuration with single-wafer rotation and is equipped with full cassette-to-cassette wafer loading as well as Aixtron's in-situ reactor cleaning feature for high-volume manufacturing.
Exagan, in collaboration with its R&D partner CEA-Leti, selected the AIX G5+ C system after evaluating its effectiveness in achieving tight uniformity control and high throughput using Exagan's proprietary G-Stack process technology, which is used in creating a unique stack of GaN-based materials that enables the fabrication of the firm's  G-FET high-power, high-efficiency transistors. Along with Soitec's industrial facility and expertise and CEA-Leti's 200mm equipment and characterization tools, Aixtron's equipment adds to Exagan's supply chain as it ramps up its material production facility in Grenoble.
Installation is a major step in Exagan's and CEA-Leti's strategic partnership to accelerate Exagan's GaN-on-Si integration roadmap. The partnership is supported by the 'G-drive+' R&D project, which is funded by Bpifrance through the French government's 'Investissements d'Avenir' ('Invest for the Future') program.
"Aixtron and our parent company CEA-Leti have enjoyed a long and successful R&D relationship developing GaN-on-Si technology," notes Exagan's chief operating officer & co-founder Fabrice Letertre. "Now, Exagan is partnering with Aixtron to deliver on our industrial roadmap by using epi to reach our cost milestones. By implementing an efficient GaN-on-Si manufacturing process on 200mm silicon substrates, we are aligning GaN technology with silicon manufacturing standards. This makes our G-FET products the most cost-efficient wide-bandgap solution for the solar, IT electronics, connectivity and automotive markets," he reckons.
"Our AIX G5+ C is the only system to date offering full automation of GaN-on-Si MOCVD processes, as commonly encountered in the silicon industry," says Dr Frank Wischmeyer, Aixtron's VP Power Electronics. "The system achieves the highest on-wafer layer uniformity in a batch multi-wafer configuration for maximum throughput and yield." 
Exagan raises €5.7m to produce GaN-on-Si power-switching devices on 200mm wafers
X-FAB and Exagan to co-develop high-volume production of high-speed GaN-on-Si power switching devices on 200mm wafers
Tags: Aixtron MOCVD GaN-on-Si GaN switching device on silicon Leti Soitec
Visit: www.aixtron.com
Visit: www.exagan.com
Visit: www.leti.fr
Visit: www.soitec.com