13 December 2016
Solar Frontier unveils SmaCIS panels for Japanese residential market
Tokyo-based Solar Frontier – the largest manufacturer of CIS (copper indium selenium) thin-film photovoltaic (PV) solar modules – has unveiled SmaCIS, a solar power system specifically designed for homes and positioned as a strategic product to serve a Japanese domestic residential market that is forecast for increased solar power demand. The system combines specially developed and uniquely constructed mounts with CIS thin-film solar panels of a size that easily fits onto the hipped roofing of Japanese homes.
Solar Frontier plans to begin production of the solar panels at its manufacturing plant in Miyazaki from April 2017, with the system to be launched in July.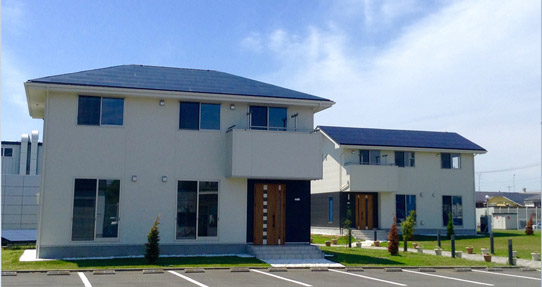 Picture: Test installation of SmaCIS.
The smart form factor of the solar panels allows for more modules to be fitted on roofs of complex design, such as on the hipped roofing of Japanese homes; the visual appearance of the system makes it aesthetically compatible with the roofs, and a newly developed method of construction reduces the time needed to put the system together by about 20%, it is reckoned.
Solar Frontier says that, with rising consumer interest in energy self-sufficiency and the net zero energy houses (ZEH) standardization policy adopted and promoted by Japan's government for 2020, the domestic market for residential solar energy systems is expected to see robust demand moving forward.
Solar Frontier says that its CIS thin-film solar panels are found used in projects by housing companies, including industry giants, nationwide. Identifying a vital target in Japan's residential market, including already-constructed homes, Solar Frontier has now made the decision to launch a new product that maintains the size of its predecessors while improving on power output.
Tags: CIS thin-film PV modules
Visit: www.solar-frontier.com