15 December 2016
Mitsubishi Electric launching record 2.1W-output 639nm red laser for projectors
On 1 February, Tokyo-based Mitsubishi Electric Corp is launching the ML562G85 continuous-wave (CW) laser diode (LD), offering a record output power of 2.1W and a brilliant 639nm red light for projectors. The laser diode's pure red color and low power consumption are expected to be adopted for large-venue laser-based projectors requiring high brightness.
It has been a technical challenge to produce red laser diodes offering high output at high temperature using a lasing wavelength not exceeding 640nm (the preferred maximum for achieving necessary luminosity). In 2010, Mitsubishi Electric launched its ML501P73 high-power-red laser diode, which incorporated original epitaxial growth technology and window-mirror structure and offered output of 1.0W (pulse) or 0.5W (CW) at 638nm. In September 2015, the firm launched the ML562G84, which achieves 2.5W of output power at 638nm light in pulsed operation.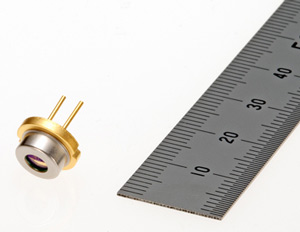 Picture: Mitsubishi Electric's ML562G85 639nm-wavelength high-power red laser diode.
Mitsubishi Electric says that it has now succeeded in developing a new CW high-power red laser diode that operates at high temperature by using original high-power technology, including an optimized laser diode structure.
Product features for the ML562G85 include an optimized epitaxial structure and emitter size, enabling record CW power output of 2.1W (at a case temperature of TC = 25°C), 4.2 times greater than that of the firm's existing model. The high-luminosity 639nm red laser light and 2.1W output (CW) yield 250 lumens per laser diode. High wall-plug efficiency of 41% at 2.1W (CW) and a low case temperature of 25°C help to reduce projector power consumption.
The large 9.0mm-diameter transistor-outline can (TO-CAN) package improves heat dissipation, yielding what is claimed to be the widest operating temperature range for a red laser diode of 0-45°C at 2.1W (CW). This compares with the existing model's 0-40°C at 0.5W (CW).
Mitsubishi Electric launching 2.5W 638nm red laser diode for pulse-operation projectors
Mitsubishi Electric develops record 1.8W 9.0mm TO-packaged 638nm red laser for projectors
Tags: Mitsubishi Electric Red laser diode
Visit: www.mitsubishielectric.com/semiconductors/products/opt/laserdevice